Eureka! Entertainment have announced the home video release of Computer Chess, the smash indie-hit selected by the 2013 London Film Festival, 2013 Sundance Festival, 2013 South by Southwest, and 2013 Berlin Film Festival.
A boldly intelligent ensemble comedy with a feel and atmosphere that surpass easy comparison, Computer Chess takes place in the early-1980s over the course of a weekend conference where a group of obsessive software programmers have convened to pit their latest refinements in machine-chess and the still-developing field of artificial intelligence (AI) against an assembly of human chess masters.
Computer Chess is a portrait not only of the crazy and surreal relationships that come to pass between the abundance of characters who participate in the weekend event (and among whose ranks include Wiley Wiggins, the revered indie-game developer and star of Richard Linklater's classic Dazed and Confused), but of the very era of early computing itself – and of the first, rudimentary video games – and (if that weren't enough) of the hopes and insecurities that persisted through the film's "retro" digital age into the present-day – that semi-virtual, hyper-social, maybe-kind-of-dehumanised landscape that, let's face it, is our very own era. If that still weren't enough: it's also one of the wittiest, most shift-and-cringe-in-your-seat, and entirely LOL-hilarious movies of recent times.
Directed by the "godfather" of the American mumblecore movement, Andrew Bujalski – director of Funny Ha Ha, Mutual Appreciation, and Beeswax – and selected by The New York Times this summer as one of 20 Directors to Watch, Computer Chess is poignant, absurd and downright hilarious. The film follows the trials and tribulations of a group of oddball geniuses over the weekend of a computer chess tournament circa 1980. As they pit their chess programmes against each other's they're met with right-on new-agers, voracious swingers and a computer that appears to be self aware...
Computer Chess transports viewers to that fleeting moment when the contest between man and machine seemed a little more up for grabs. We get to know the eccentric geniuses possessed of the vision to teach a metal box to defeat man, literally, at his own game, laying the groundwork for artificial intelligence as we know it.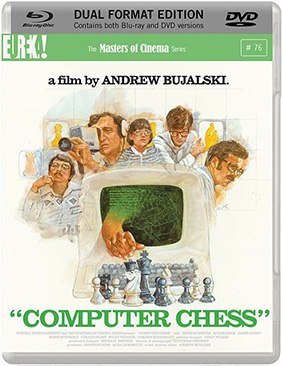 Computer Chess will be released on UK dual format on 20 January 2013 by Eureka! Entertainment as part of the Masters of Cinema series at the RRP of £17.99.
Extra features will include:
Two trailers for the film

Andrew Bujalski's short 2013 film Analog Goose

New and exclusive video interviews with Bujalski, actor Wiley Wiggins, and producer Alex Lipschultz

56-page full-colour booklet featuring a new essay by Craig Keller; a discussion on retro gaming with Wiley Wiggins; a profile on cover artist (and original Atari 2600 packaging artist) Cliff Spohn; a plethora of full-colour photography from the set; and more!

Additional extras to be announced closer to release