Eureka Entertainment have announced that they will be releasing Il Bidone, one of the most acclaimed films of the 1950s by legendary filmmaker Federico Fellini (8 1/2, Nights of Cabiria, La Dolce Vita). The first Blu-ray release anywhere in the world of this classic drama, will be released in the UK in a Dual Format (Blu-ray & DVD) edition as part of the Masters of Cinema Series on 30th December 2013.
Federico Fellini followed up his iconic breakthrough La strada with this brilliant drama – an unsparing look at the dog-eat-dog values of post war Italian society that nonetheless manages to navigate expertly between the lightly comic and the emotionally stark to become one of his richest, most moving works.
Il bidone [The Swindle] follows three small-time conmen – the ageing Augusto (Broderick Crawford), "Picasso" (Richard Basehart), and Roberto (Franco Fabrizi) – as they prey upon the poor and gullible for modest gains. However, once Augusto is unexpectedly reunited with his daughter, now struggling with her studies, the moral and emotional demands of his lifestyle begin to take their toll sooner than he had anticipated.
With its masterful set pieces and host of superb performances (including the director's wife and muse Giuletta Masina), this forms the centrepiece of what has been termed Fellini's "Trilogy of Loneliness" (with bookending films La strada and Le notti di Cabiria), and may be the darkest examination of human nature he ever attempted. The Masters of Cinema Series is proud to present this long-undervalued classic in a new high-definition restoration.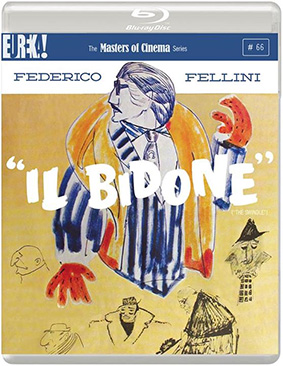 Il bidone will be released on UK dual format (Blu-ray and DVD in the same package) on 30th December 2013 by Eureka as part of the Masters of Cinema series at the RRP of £19.99.
Featuring a beautiful new high-definition master, with the film appearing in 1080p on the Blu-ray, and optional English subtitles, the release will have the following extra features:
Original theatrical trailer

36-PAGE BOOKLET featuring the words of Federico Fellini, rare imagery, and more

more to be announced nearer the release date
No subs on the Italian trailer, but it gives a flavour of the film: