Arrow Video has announced that John Carpenter's iconic cult classic Big Trouble in Little China will be released as both as a deluxe Blu-ray and a limited edition SteelBook in December.
Kurt Russell plays Jack Burton, a reasonable guy who is about to experience some unreasonable things in San Francisco's Chinatown. As his friend's fiancée is kidnapped Jack becomes embroiled in a centuries-old battle between good and evil. At the root of it all is Lo Pan, a 2000-year-old magician who rules an empire of evil spirits. Jack goes to the rescue dodging demons, goblins and the unstoppable Three Storms as he battles through Lo Pan's dark domain.
One of Carpenters most enjoyable and best loved films, Big Trouble in Little China juggles delirious set-pieces, comedy and kung-fu action with a sharp script of memorable one-liners, as Jack would say "It's all in the reflexes."
Featuring a bumper crop of bonus features, including newly filmed interviews with the director John Carpenter and star, Kurt Russell as well as Carpenter's long-time producer Larry Franco and the film's stunt coordinator Jeff Imada, cinematographer Dean Cundey and a further wealth of archive content. The Blu-ray producer's Francesco Simeoni says of the release:
"Big Trouble was a dream come true, it's such an iconic film and to be able to work on a new version of this was a real treat. Technically one of our most complicated discs with acres of content to fit in whilst making everything easy to navigate and user friendly our technical team made this all seamless on the final disc and we are really pleased with the final presentation. The film's restoration from Twentieth Century Fox was a gift, it's never looked so good and we can't wait for our fans to enjoy this package for Christmas."
A commercial failure upon release in cinemas the film was mishandled by the studio and interviewees Carpenter and Russell especially make no bones about what happened. Finding a secondary life on home video and becoming a bona fide cult classic the film has enjoyed a great reputation on VHS and DVD and now for the first time can be enjoyed in this definitive edition.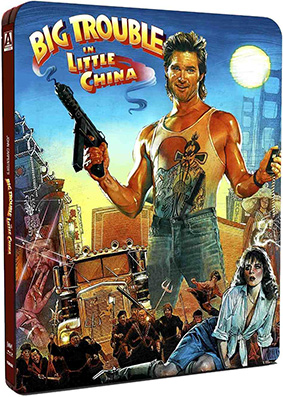 Big Trouble in Little China will be released on UK Blu-ray on 16th December 2013 by Arrow Films at the RRP of of £19.99 for the Special Edition Blu-ray and £24.99 for a Limited Edition Steelbook featuring Drew Struzan's iconic artwork.
Featuring a High Definition 1080p presentation of the film from a digital transfer prepared by Twentieth Century Fox and optional 5.1 DTS-HD Master Audio and uncompressed Stereo 2.0 Audio, the package will have the following extra features:
5.1 DTS-HD isolated score soundtrack

Audio Commentary with director John Carpenter and star Kurt Russell

Return to Little China – A brand new interview with John Carpenter

Being Jack Burton – A brand new interview with Kurt Russell

Carpenter and I – A brand new interview with cinematographer Dean Cundey

Producing Big Trouble – A new interview with producer Larry Franco

Staging Little Trouble – A new interview with stuntman Jeff Imada

Interview with visual effects producer Richard Edlund

Vintage Making-of featurette featuring cast and crew

Extended Ending

Deleted Scenes

Music Video

Gallery of behind-the-scenes images

3 original trailers

TV Spots

Booklet featuring new writing on the film by John Kenneth Muir, author of The Films of John Carpenter, as well as a re-print of an interview with production designer John Lloyd and make-up effects artist Steve Johnson on the design and effects of the film, illustrated with archive stills and posters

The standard release is available with a reversible Sleeve featuring original and newly commissioned artwork by Jay Shaw and the Limited Edition SteelBook is presented with the original iconic Drew Struzan artwork