Arrow Films' Arrow Academy label has announced the highly anticipated deluxe Blu-ray release of Robert Altman's seminal The Long Goodbye. The restored Blu-ray disc will be available to own in the UK on 2nd December, marking the first time that this classic piece of 70s cinema will be available on the Blu-ray format in the UK.
Shot by the Academy Award-winning cinematographer Vilmos Zsigmond (Heaven's Gate, Close Encounters of the Third Kind), a regular collaborator of Brian De Palma, Woody Allen and Robert Atlman the film was treated to a unique process in post-production whereby Zsigmond flashed the negative with light, partially exposing it, giving the film a muted look with desaturated colours and very low contrast. To ensure this was faithfully rendered on The Arrow Academy Blu-ray Zsigmond provided detailed colour notes so the master could better match the original intended look. The processes the film went through are explained in more detail on the extras contained in the disc and the booklet.
When private eye Philip Marlowe (Elliott Gould) is visited by an old friend, this sets in train a series of events in which he's hired to search for a missing novelist (Sterling Hayden) and finds himself on the wrong side of vicious gangsters. So far so faithful to Raymond Chandler, but Robert Altman's inspired adaptation of the writer's most personal novel takes his legendary detective and relocates him to the selfish, hedonistic culture of 1970s Hollywood, where he finds that his old-fashioned notions of honour and loyalty carry little weight, and even his smoking (universal in film noir) is now frowned upon.
Widely misunderstood at the time, The Long Goodbye is now regarded as one of Altman's best films and one of the outstanding American films of its era, with Gould's shambling, cat-obsessed Marlowe ranking alongside more outwardly faithful interpretations by Humphrey Bogart and Robert Mitchum.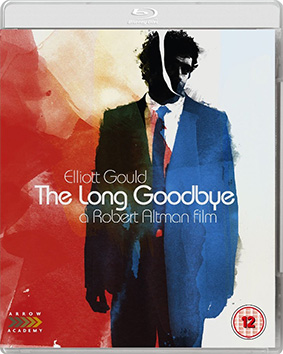 The Long Goodbye will be released on UK Blu-ray by Arrow Films as part of the Arrow Academy label on 2nd December 2013 at the RRP of £19.99.
Featuring a High Definition 1080p presentation of the film from a digital transfer by MGM Studios, the disc will have the following extra features:
Isolated Music and Effects Soundtrack

Rip Van Marlowe: an interview with director Robert Altman and star Elliott Gould

Vilmos Zsigmond Flashes The Long Goodbye: an interview with the legendary cinematographer

Giggle and Give In: Paul Joyce's acclaimed documentary profile of Robert Altman, with contributions from Altman, Gould, Shelley Duvall, assistant director Alan Rudolph and screenwriter Joan Tewkesbury

Elliott Gould Q&A: the star discusses the film with crime novelist Michael Connelly

David Thompson on Robert Altman: the editor of Altman on Altman and producer of the BBC's Robert Altman in England talks about The Long Goodbye's place in Altman's filmography

Tom Williams on Raymond Chandler: the novelist's biographer outlines his life and work and discusses Altman's adaptation of The Long Goodbye

Maxim Jakubowski on Hard Boiled Fiction: the crime writer and critic discusses the emergence of hard-boiled detective characters from the pages of the pulp magazines from the 1920s through to the 1950s

Original Theatrical Trailer

Radio Spots

Reversible Sleeve featuring the original poster and newly commissioned artwork by Jay Shaw

Booklet featuring new writing on the film by Brad Stevens, an archive interview with screenwriter Leigh Brackett, a new interview with Alan Rudolph, and an American Cinematographer article discussing Zsigmond's unique treatment of the film, illustrated with original archive stills and posters