When Dan Bramford moves his family to the idyllic town of Stull to take up the mantle as the new pastor, he is greeted with open arms and welcomed with some all-American country charm by his new congregation. With its fair share of secrets, the seemingly sleepy Stull is actually built on a demonic gateway to hell. Every year a ritual human sacrifice must take place to protect the town from the plague of a dark supernatural force. The Bramfords have a new home, new jobs and a new beginning in Stull; but the town has much more sinister plans in store for them.
Urban American horror is very much back in fashion (the fact that most of it is a bit ropey we'll put aside for now), and the 2013 Nothing Left to Fear is very much in that tradition. The feature debut of the regal sounding Anthony Leonardi III, the film stars Anne Heche (Donnie Brasco, Wag the Dog, Birth) and James Tupper (Me and Orson Welles, TV's Revenge), and the film is the first feature from Slasher Film Productions, which is co-owner by ex-Guns N' Roses lead guitarist Slash.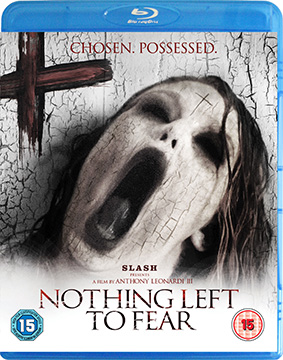 Nothing Left to Fear will be released on UK Blu-ray and DVD on 17th February 2013 by Anchor Bay at the RRP of £19.99 for the Blu-ray and £15.99 for the DVD.
The extra features are... non-existent at this stage, although that could change bewteen now and the release date.