You may not be aware of the 2013 film Shackled, aka Belenggu. That's hardly surprising given that it's hardly been seen outside of its home country of Indonesia. So little seen is it that even the press release is thin on details.
A paranoid bartender is haunted by visions of violent murders, a psycho killer in a rabbit costume and a mysterious femme-fatale. While he is tortured by these nightmares, there are killings going on in town - could the killings be linked to his nightmares? In this small town everyone is a suspect.
According to that press release, this is a "dark, violent, cerebral horror tale, reminiscent of David Lynch's surrealism," while The Guardian called it a "dazed, sophisticated horror hybrid." We can only hope.
The film's scriptwriter and director Upi (aka Upi Avianto) is part of the new generation of filmmakers in Indonesia making Indonesian cinema accessible to international audiences. She gained success for her action drama Serigala Terakhir (Last Wolf, 2009), hit teen drama comedy Coklat Stroberi (Chocolate Strawberry, 2007), teen action Realita Cinta dan Rock'n Roll (Reality, Love and Rock 'n' Roll, 2006). Shackled (aka Belenggu) is her darkest and most ambitious work to date.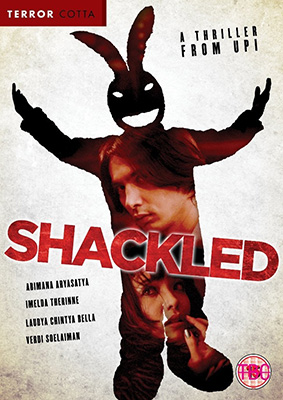 Shacked will be released on UK DVD on 25th November 2013 by Terracotta under their Terror Cotta banner. at the RRP of £14.99.
No extra features have been detailed.
As you might expect, English language trailers are bit thin on the ground at the moment, but the Indonesia trailer does give a flavour of its tone and content.