In 1984, the slasher favourite Silent Night, Deadly Night was banned across America, becoming the most notorious Christmas film in history. Now, Santa is back, and he's got a brand new bag of tricks...
As their small Midwestern town prepares for its annual Christmas Eve parade, Sheriff Cooper (the lovely Malcolm McDowell) and his deputy Aubrey Bradimore (Jaime King – My Bloody Valentine 3D) discover that a maniac in a Santa suit is murdering those he judges as "naughty." Their sins? Porn, adultery, greed... And he will make sure they rest in heavenly pieces.
Donal Logue (SharkNight 3D), Ellen Wong (Scott Pilgrim Vs. The World), Lisa Marie (The Lords of Salem), and Brendan Fehr (CSI: Miami) co-star in this brutal and darkly humorous tale of Christmas gone bad.
More a reworking of Silent Night, Deadly Night than a sequel or remake, Silent Night is being promoted as the ideal antidote to traditional Christmas entertainment a gift for horror fans everywhere this Christmas. Just as long as they behave...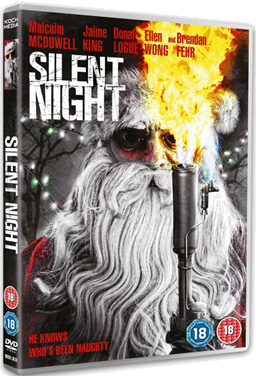 Silent Night will be released on UK DVD on 11th November 2013 (a bit early for a Christmas gift, I'd say) by Koch Media at the RRP of £15.99.
Extra features? Doesn't look like it. Aw, that's not much of a Christmas present...