Simply Media have announced the November DVD release of two highly regarded British TV dramas from the early 1980s, the 1983 series Spyship and the 1984 nuclear drama Threads.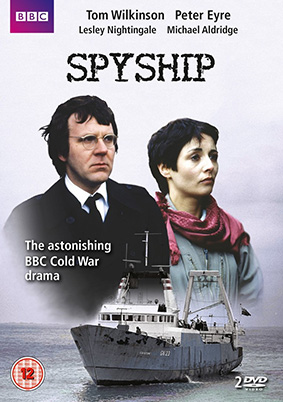 Spyship
Enter a nightmarish world of political cover-ups of international consequence in the last decade of the Cold War in this six-part BBC drama.
When an ordinary British fishing vessel and its 36-man crew mysteriously disappears off the coast of Norway, journalist Martin Taylor (Tom Wilkinson) is determined to find out why. His father was on board, and is now missing. His investigations soon lead him to run up against the twin barriers of Royal Navy stonewalling and an impenetrable Soviet Politburo. The notorious finale shocked audiences when it was first aired in 1983.
Spyship is based on the fictional novel by Brian Haynes and Tom Keene, former reporters who researched the real life sinking of the FV Gaul in 1974 which was shrouded in mystery.
Spyship will be released for the first time on DVD on 18th November 2013 by Simply Media at a to-be-confirmed RRP (we're guessing £19.99). No extra features have been listed.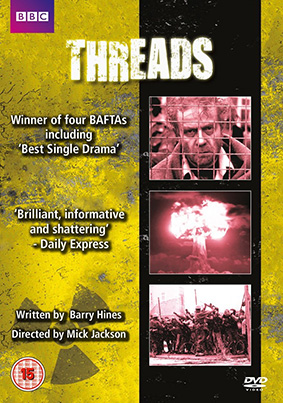 Threads
The threads that hold civilisation together are blasted away in this critically acclaimed, no-holds-barred docudrama about a nuclear attack on a British city during the 1980s. Threads was written by Barry Hines (Kes, Looks and Smiles, The Gamekeeper) and directed by Mick Jackson (A Very British Coup, L.A. Story, The Bodyguard).
Ruth (Karen Meagher) and Jimmy (Reece Dinsdale) live in Sheffield, and are preparing to get married. Tension is rising between the Western powers and Russia, but the couple are blissfully unconcerned with world events as they carry on with their wedding plans. When Russia invades Iran, events take a dramatic turn. With no prior warning Russia fires two nuclear warheads over Sheffield, obliterating the city and creating a radioactive wasteland. The few survivors are reduced to living in medieval conditions, scavenging for survival as they combat starvation, disease, mental trauma and nuclear winter.
Originally broadcast at the height of the nuclear paranoia of the '80s and described by, erm, Cine Outsider as "British television at its most provocative and powerful",, Threads sent shock waves throughout the country. This landmark drama remains, along with Peter Watkins' The War Game, the most powerful anti-nuclear message ever presented on film, and is every bit as shocking today.
Threads will be released on UK DVD on UK DVD on 18th November 2013 by Simply Media at a to-be-confirmed RRP. No extra features have been listed.
You can read our review of the previous BBC DVD release here.