Based on Patrick Hamilton's celebrated stage play, Thorold Dickinson's (The Queen of Spades, The Next of Kin) Gaslight (1940) is a harrowing and claustrophobic study of murder, abuse and lust in Victorian London. Unseen for many decades, this newly remastered version of Dickinson's psychological classic is available for the first time on Blu-ray and DVD, released with a host of extras in a Dual Format Edition on 18th November 2013 as part of the BFI's GOTHIC: The Dark Heart of Film.
By turns charming and cruel, Anton Walbrook (The Life and Death of Colonel Blimp) excels as the sadistic husband who attempts to drive his wife (Diana Wynyard) mad to prevent her disclosing his dark past.
The success of Gaslight on stage and film encouraged Hollywood studio MGM to buy the remake rights, with a clause insisting that all existing prints of Dickinson's version be destroyed. Fortunately, Dickinson had made a 'secret' print, which was donated to the BFI and used for reference when the film was digitally remastered by the BFI National Archive.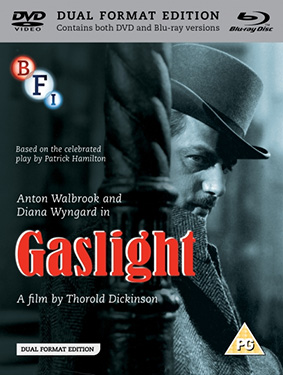 Gaslight will be released on UK dual format (including Blu-ray and DVD versions) on 18th November 2013 by the BFI at the RRP of £19.99.
Special features will include:
Spanish A B C (Thorold Dickinson and Sidney Cole, 1938): a short film on the Republican efforts to improve education standards during the Spanish Civil War
Behind the Spanish Lines (Sidney Cole and Thorold Dickinson, 1938): a companion piece to Spanish A B C looking at life in the Republican zone
Westward Ho! (Thorold Dickinson, 1940): a short film to promote the evacuation of urban children to rural areas
Miss Grant Goes to the Door (Brian Desmond Hurst, 1940): a short film about a German invasion from a story by Thorold Dickinson

Yesterday is Over Your Shoulder (Thorold Dickinson, 1940): a short film encouraging unskilled workers to join free, government-organised, engineering training schemes

Original promotional materials and documents from the BFI National Archive Special Collections (downloadable PDF, DVD only)

Illustrated booklet featuring full credits and essays from Henry I< Miller, lain Sinclair, Philip Home, Peter Swaab and Michael Brooke