Arrow Video has announced the UK Blu-ray release of Wes Craven's The People Under the Stairs. This Blu-ray disc will be available to own in the UK on 4th November and include packaging which will showcase the original poster artwork as well as a reversible sleeve with newly illustrated artwork.
In every neighbourhood there is one house that adults whisper about and children cross the street to avoid...
Wes Craven, the master of terror who brought you the infamous The Last House on the Left, invites you inside another house of horror.
"Fool" may be a streetwise kid, but he makes a decidedly bad decision when he agrees to assist a family friend in the robbery of their landlord's imposing homestead. What begins as a routine break-in soon begins to take a sinister turn as the would-be robbers find themselves trapped inside and face-to-face with the terrible secrets which lurk within the building's walls – and under the stairs...
The People Under the Stairs sees director Wes Craven return to one of his trademark themes: the savagery which lurks just underneath the skin of the outwardly conventional family unit. Often overlooked in favour of the director's more A-list hits such as Scream and A Nightmare on Elm Street, The People Under the Stairs is a superior slice of home-bound horror which can stand proudly alongside Craven's best works.
On the new Blu-ray release, Arrow Video's Ewan Cant says
"As a huge Wes Craven fan, it was a dream come true to be able to work on the first ever Blu-ray release of The People Under the Stairs. Released in 1991, a few years before Wes Craven's name would become synonymous with the Scream franchise, The People Under the Stairs is one film in the director's resume which all but passed me by first time around: a fact which has made revisiting this movie all the more of a revelation. The People Under the Stairs is a real gem of early 90s horror which weaves gruesome visuals and pitch black comedy into a grim fairy tale for the ages – and with our new Blu-ray release, Craven fans get to see the film looking better than ever before! I was especially pleased that we were able to include on the disc an insightful interview with the great director himself, alongside engaging interviews with stars Sean Whalen ("Roach") and A.J. Langer ("Alice"). Rounded off with some suitably grisly new cover art from the inimitable Stephen R. Bissette, this package represents the perfect Halloween treat!"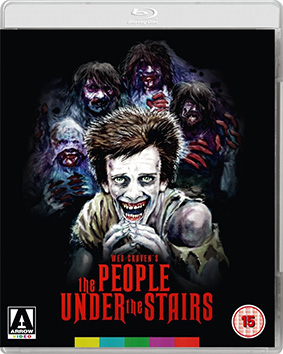 The People Under the Stairs will be released on UK Blu-ray on 4th November 2013 by Arrow Video at the RRP of £19.99.
Featuring a high definition digital transfer of the film by Universal Pictures, the extras will include:
Audio commentary with star Brandon Quintin Adams, moderated by Calum Waddell

Fear, Freud and Class Warfare: Director Wes Craven discusses the timely terrors of The People Under the Stairs


Behind Closed Doors: Leading Lady A.J. Langer remembers The People Under the Stairs

Silent But Deadly: Co-Star Sean Whalen on The People Under the Stairs

Underneath the Floorboards: Jeffrey Reddick, creator of the Final Destination series, recalls the lasting impact of The People Under the Stairs

Original Trailer

Reversible sleeve featuring original and newly commissioned artwork by Stephen R. Bissette

Collectors booklet featuring new writing on the film, illustrated with original archive stills