Now in it's 8th successful year, the London Korean Film Festival (LKFF) will run this year from 7th to 22nd November. Presented by the Korean Cultural Centre UK, the festival returns with a diverse line up, giving audiences across the capital and the UK an opportunity to celebrate the very best of contemporary Korean Cinema from this year, with UK and European premieres of box-office hits, critically acclaimed titles and retrospective programmes across various genres, as well as offering unique access to the cream of Korean film talent with events from visiting directors and actors.
The LKFF will be showcasing both established and emerging talents in the Korean Film Industry. The festival's Film Forum at the Korean Cultural Centre creates an opportunity for Korean and UK film industry experts and filmmakers to meet and help foster links between South Korea and UK to encourage funding investment, co-productions and access to post-production.
The London Korean Film Festival programme takes place between 7th and 15th November across venues in London, including the Odeon West End for Opening and Closing Night Galas, Odeon Covent Garden, Odeon Panton St, Odeon Kingston, Curzon Soho and the Korean Cultural Centre. For fans of Korean cinema who are not in London, a selection of LKFF programme highlights will travel to Oxford, Bradford and St. Andrews between 16th – 22nd November.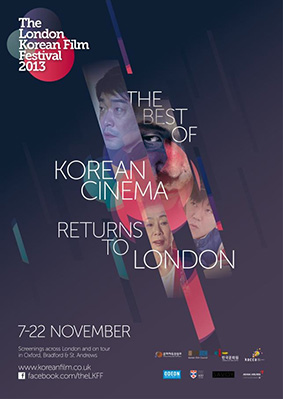 The London Korean Film Festival opens on 7th November at the Odeon West End with the European premiere of Hide and Seek [Sum-bakk-og-jil]. First time director Huh Jung's home invasion thriller was an unexpected box office hit upon its South Korean release in August. The film topped the box office in its opening weekend and reached 5 million tickets sales in less than 3 weeks. Hide and Seek is a low-budget suspense thriller with punchy dialogue, smart characters, taut plot and precise direction. Director Huh Jung will present the Opening Gala with the film's star Son Hyun-joo hosted by critic and LKFF advisor Tony Rayns.
Main strand highlights from the LKFF 2013 programme include:
A directorspective of award-winning filmmaker and producer Kang Woo-suk who has been an influential figure within the Korean Film Industry since the 1990s. Since his debut in 1988 he has made 16 films as director, his work often discussing major social issues and domestic concerns. Since the mid 90s Kang Woo-suk has overseen the investment, planning and production of over 120 films. The LKFF will be presenting a retrospective of 5 of his best known works, opening at the Curzon Soho with a special screening of Kang's classic action crime thriller, Public Enemy [Gonggongui jeog] (2002) and both the director and Sol Kyung-gu, the star of many of his films including the acclaimed Public Enemy trilogy will be in attendance, taking part in a Q&A with critic Oh Dongjin. This special retrospective programme will also screen Kangs latest film as director, the eagerly anticipated Fists of Legend (2013), an all-star street-fighting action movie, pitting 3 old friends and rivals in the ring, as part of a reality televised tournament, starring Hwang Jung-min. The other films being screened in this retrospective strand are Silmido (2003), Moss [Iggi] (2010), and the acclaimed sequel Public Enemy Returns [Kang Chul-jung: Gonggongui jeog 1-1] (2008).
Sol Kung-gu will also present a special preview of Lee Joon-ik's latest film Wish [So-won] in the Panorama strand. The film which recently topped the South Korean box office chart is a dramatic retelling of a tragic real life story about an infamous crime that shocked Korea. Wish stars Sol Kung-gu as a parent, whose family suffer an irreversible hurt yet who manage in finding hope despite their despair.
This year's Korean Classics strand marks 60 years since the Korean War Armistice with 3 classic Korean war films, made in the aftermath of the War that explore the impact of combat (Shin Sang-ok's Red Scarf [Balgan mahura] (1964) and Lee Man-hee's Marines are Gone (1963), introduced by Dr. Mark Morris) as well as the immediate effects of the Armistice on the soldiers themselves (Lee Kang-cheon's Piagol (1955)); on their friendships and relationships.
Best known in the UK for The Good, The Bad, The Weird [Joheunnom nabbeunnom isanghannom], I Saw the Devil [Akmareul boatda], A Tale of Two Sisters [Janghwa, Hongryeon] and most recently his Hollywood debut, The Last Stand with Arnold Schwarzenegger, Kim Jee-woon is a talented filmmaker whose distinctive and skilful storytelling style is told using an original visual language. LKFF are thrilled to welcome the multi-award winning director to London to present a special programme of his favourite short films which illustrate his unique visual style, including his latest short project One Perfects Day (2013).
LKFF will also screen a selection of short films from Korea's prestigious Mise-en-Scène Short Film Festival (MSFF) as well as a screening of Busan Film Festival Director Kim Dong-ho's directorial debut Jury, a comedy short about film festivals and award ceremonies; a satire for those who make, watch and criticise films. Kim Dong-ho also features in acclaimed Iranian director Mohsen Makhmalbaf's Ongoing Smile, a documentary about the Festival artistic director who founded the Busan Film Festival in 1997. Kim Dong-ho will be taking part in a Q&A discussion following the screening with critic Tony Rayns. Also screening is Day Trip, the latest venture from the joint creative team of PARKing CHANce, the collaboration between world renowned Korean auteur Park Chan-wook and his brother, outstanding media artist Park Chan-kyong.
The New Korean Cinema strand showcases the best films from this year including box office hits, The Flu [Gamgi], Secretly, Greatly and Montage [Mong-ta-joo].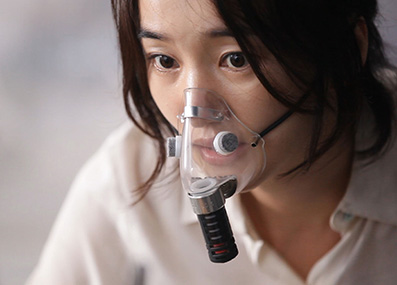 An airborne virus spreads at an alarming rate, 3.4 infections per second with 100% fatality and no known cure, the dangerous epidemic threatens to wipe out the population of the Korean peninsula and beyond. A box office smash when the film opened in South Korea in August, The Flu is an impressive disaster movie on a truly epic scale making it Korea's answer and equal to Hollywood's Contagion and Outbreak both in terms of its narrative scope and thrilling tension. Director Kim Sung-su will present the film in London, with an audience Q&A.
Upon its release in June, Jang Cheol-soo's comedy spy drama Secretly, Greatly broke several box office records in South Korea; the highest single day opening and the biggest opening weekend for a domestic film and became the fastest movie to reach 1, 2, 3 and 4 million admissions. Secretly, Greatly tells the story of 3 undercover North Korean spies living in the South while waiting for their orders. One day, an unexpected order arrives, but it's not what they hoped for. In Jeong Keun-seob's thriller Montage, a mother who lost her child in a kidnapping 15 years ago, the detective with a guilty conscience and the kidnapper with a secret to hide are all running against time to solve the case before the statute of limitations runs out.
In addition to these box office hits, the New Korean Cinema strand also celebrates some of the films which were critically acclaimed at home and abroad from this year. The Critic's Choice and Panorama strands include Yim Soon-rye's family comedy South Bond, actor turned award-winning director Yoo Ji-tae's Mai Ratima, which won the Jury Prize at the Deauville Asian Film Festival and Fatal, Lee Don-ku's drama about the lifelong effects of bullying was selected for the Panorama section at this year's Berlin Film Festival. Pluto, Shin Su-won's high school clique thriller won the Crystal Bear and special mention at Berlin. Lee Chang-jae's documentary Bhikkhuni follows the lives of 4 female Buddhist monks, with unprecedented access to the monks at the Baekheungam temple over 300 days.
The latest film from Lee Je-yong (Untold Scandal) was also selected to screen at this year's Berlin Film Festival's Panorama section. An experimental mockumentary about remote filmmaking that blurs the line between fiction and reality, Behind the Camera sees the director cast himself as a filmmaker attempting to make a film via Skype in Los Angeles. Without the director's physical presence on set, will the production spiral into chaos? The film explores the production process and elements of reality shows.
The LKFF programme also offers a special family animation day at the Odeon Covent Garden and fun for all ages, with screenings of the snowy, fast paced ice show, Poroporo: The Racing Adventure from top South Korean animation house Ocon Animation Studios, starring Pororo the sleigh-racing penguin in 3D, and intergalactic comic adventure Bolts & Blip about 2 misfit city robots who accidentally find themselves members of the lunar league sports circuit.
Filled with quirky characters, bold colours and young K-pop stars, K-Comedy is a popular and prominent genre focusing on the lighter side of Korean Cinema. This year's LKFF brings us Code Name Jackal starring K-pop star Kim Jae-joong and romantic comedy How to Use Guys with Secret Tips [NamJaSaYongSeolMyungSuh] starring Lee Si-young and Oh Jeong-se.
The festival draws to a close in London on 15th November at the Odeon West End with the Closing Night European premiere of Song Hae-sung's drama, Boomerang Family [Go-ryeong-hwa-ga-jok], bringing together some of Korea's biggest stars for an unprecedented ensemble film which explores family dynamics. A mother's peaceful household is shattered by the return of her 3 adult children who's personal situations force them back into the family fold, years after flying the nest. How will they all manage to co-exist under one roof and hold on to a shred of dignity? Youn Yuh-jung who plays the family matriarch, best known to UK audiences for her award-winning role in The Housemaid [Hanyo] will present the Closing Night Gala alongside her co-stars Park Hae-il (Eungyo, Moss, War of the Arrow), Yoon Je-moon (The Good, The Bad, The Weird, Mother, Fists of Legend) and director Song Hae-sung (Failan, A Better Tomorrow).
The 2013 London Korean Film Festival takes place between 7th – 22nd November at various locations across London and the UK.
For further information visit: www.koreanfilm.co.uk
Facebook – https://www.facebook.com/theKCCUK /
Twitter – @koreanfilmfest #LKFF13