Werewolves, vampires and ghosts haunt the living in this much sought-after 1977 BBC horror anthology series Supernatural, devised by talented TV dramatist Robert Muller. Previously unavailable and much requested, it finally comes to DVD, released in a double-disc set by the BFI on 18th November 2013 as part of GOTHIC: The Dark Heart of Film.
Referencing a rich vein of literary gothic stories, from Mary Shelley's Frankenstein to Sheridan Le Fanu's Carmilla, Supernatural presents seven unique tales (including the admired two-parter Countess Ilona and The Werewolf Reunion) across eight unsettling instalments.
Each episode opens in the Club of the Damned, where prospective entrants are required to tell a story that will chill the blood of the assembled members. But much is at stake for the storyteller, as failure to induce terror in all who attend carries the price of certain death.
A timeless example of British gothic horror at its very best, Supernatural boasts a superb cast of acting talent, including Billie Whitelaw (Frenzy, The Omen), Jeremy Brett (The Aduentures of Sherlock Holmes), Robert Hardy (Psychomania, Middlemarch), Gordon Jackson (The Professionals), Denholm Elliot (The Signalman, Bad Timing), Sinead Cusack (V for Vendetta, Wrath of the Titans), Ian Hendry (Repulsion, Get Carter), Jeremy Clyde (Schalcken the Painter) and John Justin (Schalcken the Painter), and is directed by such filmmakers as Peter Sasdy (Countess Dracula, The Stone Tape), Simon Langton (The Whistle Blower) and Claude Watham (That'll Be the Day).
Disc One
Ghost of Venice with Robert Hardy and Sinead Cusack
Countess Ilona with Billie Whitelaw, Ian Hendry and Edward Hardwicke
The Werewolf  Reunion with Billie Whitelaw and Ian Hendry
Mr Nightingale with Jeremy Brett and Lesley-Anne Down
Disc Two
Lady Sybil with Denholm Elliott and Catherine Nesbitt
Viktoria with Catherine Schell and Judy Cornwell
Night of the Marionettes with Gordon Jackson and Kathleen Byron
Dorabella with Jeremy Clyde and John Justin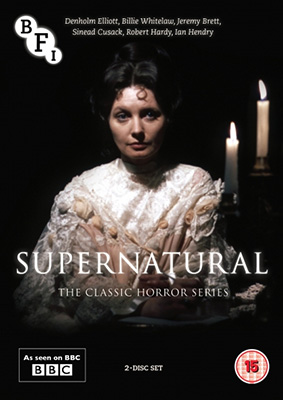 Supernatural will be released as a 2-disc DVD set by the BFI on 18th November 2013 as part of their GOTHIC: The Dark Heart of Film project at the RRP of £24.99.
Included witll be an illustrated booklet  featuring an  introductory essay  by Julian  Upton,  episode notes, biography of Robert Muller, cast and credits.