The 28th Flipside title in the BFI's acclaimed series is one of the most wanted programmes from the BBC archives – Schalcken the Painter (1979). It comes at last to DVD and Blu-ray, released by the BFI on 18th November 2013 in a Dual Format Edition as part of the GOTHIC: The Dark Heart of Film. Extensive extras include two complementary films and a new interview with director Leslie Megahey and director of photography John Hooper.
Originally screened by the BBC during the dying hours of 23rd December 1979, this exquisitely shot, atmospheric horror film explores the uneasy relationship between art, commerce and erotic desire.
An aspiring young painter falls for his patron's niece but forsakes love for ambition when a ghoulish stranger demands her for himself. Adapted from the chilling ghost story by J Sheridan Le Fanu, Schalcken the Painter weaves a fictional tale of terror around the work of real life seventeenth-century Dutch Golden Age painter, Godfried Schalcken. The superb cast includes Jeremy Clyde, Maurice Denman and Cheryl Kennedy.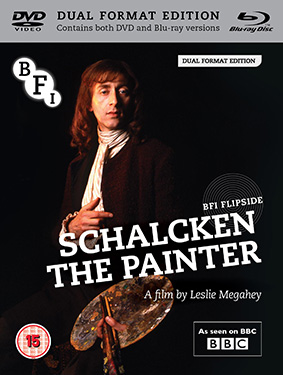 Schalcken the Painter will be released on UK dual format (DVD and Blu-ray) by the BFI as part of their Flipside strand as part of GOTHIC: The Dark Heart of Film on 18th November 2013 at the RRP of £19.99.
Special features are:
The Pit (Edward Abraham, 1962, 27 mins): experimental gothic short, adapted from Edgar Allen Poe's 'The Pit and the Pendulum'

Original sketches for The Pit

The Pledge (Digby Rumsey, 1982, 21mins): three criminals pledge to free the soul of their friend from his gibbeted corpse in this short film based on 'The Highwayman' by Lord Dunsany

Look Into the Dark (2013, 39 mins): interviews with director/writer/producer Leslie Megahey and director of photography John Hooper on the making of Scha!cken the Painter

Illustrated booklet with new essays by Ben Hervey, James Bell and Vic Pratt; complete film credits
Schalcken the Painter will be screened at the National Gallery at 2.30pm on 4th January 2014 followed by an 'In Conversation' with special guests Leslie Megahey and John Hooper as part of GOTHIC: The Dark Heart of Film. The National Gallery houses four of Schalcken's paintings.
Tickets are £6 with £4 concessions, available online from  20 November through this link: http://www.nationalgallery.org.uk/whats-on/film/.
After  the  screening director Leslie Megahey will be in conversation with  the  cinematographer John  Hooper and Betsy Weisman, the Gallery's curator of Dutch and  Flemish  paintings.