Eureka! Entertainment have announced home video releases of an eagerly awaited new restoration of F. W. Murnau's legendary silent cinema horror classic Nosferatu: A Symphony of Horror [Nosferatu, eine symphonie des grauens] (1922), expertly restored in Germany by the world-renowned Friedrich-Wilhelm-Murnau-Stiftung.
An iconic film of the German expressionist cinema, and one of the most famous of all silent movies, F. W. Murnau's Nosferatu: A Symphony of Horror continues to haunt – and, indeed, terrify – modern audiences with the unshakable power of its images. By teasing a host of occult atmospherics out of dilapidated set-pieces and innocuous real-world locations alike, Murnau captured on celluloid the deeply-rooted elements of a waking nightmare, and launched the signature "Murnau-style" that would change cinema history forever.
In this first-ever screen adaptation of Bram Stoker's Dracula, a simple real-estate transaction leads an intrepid businessman deep into the superstitious heart of Transylvania. There he encounters the otherworldly Count Orlok – portrayed by the legendary Max Schreck, in a performance the very backstory of which has spawned its own mythology – who soon after embarks upon a cross-continental voyage to take up residence in a distant new land... and establish his ambiguous dominion. As to whether the count's campaign against the plague-wracked populace erupts from satanic decree, erotic compulsion, or the simple impulse of survival – that remains, perhaps, the greatest mystery of all in this film that's like a blackout...
Nosferatu: A Symphony of Horror has become one of the most iconic and of all horror films – and silent films – in the history of cinema, ranked #21 in Empire magazine's 2010 poll of the 100 greatest films in world cinema and included in the recent Critic's Poll by Sight & Sound magazine as one of the 250 greatest films ever made. With an incomparable lead performance as the vampire by Max Schreck – whom some believe to have been an actual vampire, it is the film behind E. Elias Merhige's John Malkovich-starring Shadow of the Vampire and the inspiration behind Werner Herzog's Klaus Kinski-starring 1979 feature adaptation, released theatrically by the BFI on 1 November 2013.
Nosferatu's UK theatrical run, meanwhile, will be co-ordinated by Eureka! Entertainment and will open in cinemas nationwide on Friday October 25, 2013, just in time for Halloween, and will also feature as part of the BFI's GOTHIC: The Dark Heart of Film, which runs from 21st October 2013 to 31st January 2014. This year the BFI will take Britain back to darker times and thrill the nation by uncovering, as never before, the dark heart of film. With over 150 titles and around 1000 screenings GOTHIC features spectacularly terrifying special events to thrill every corner of the UK. GOTHIC will explore film's most popular theme, spawning some of the medium's most iconic, powerful and terrifying scenes and characters whose lasting popularity just refuses to die.
A full list of theatrical screenings can be found on the BFI's website http://www.bfi.org.uk/node/12490

The BFI will release Werner Herzog's Nosferatu the Vampyre (1979), starring Klaus Kinski, Isabelle Adjani and Bruno Ganz at BFI Southbank and selected cinemas nationwide on 1 November 2013 – with previews on Halloween – as part of GOTHIC: The Dark Heart of Film.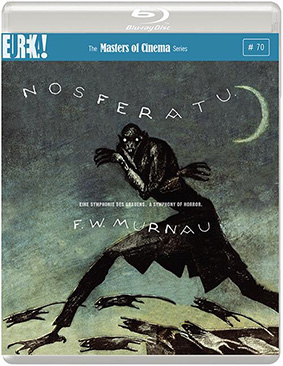 Nosferatu: A Symphony of Horror will be released on UK Blu-ray, DVD and Dual Format Steelbook on 18th November 2013 by Eureka! as part of the Masters of Cinema series at the RRP of £19.99 for the DVD, £19.99 for the Blu-ray and £29.99 for the Dual Format Steelbook.
Boasting a brand new high-definition restoration by Friedrich-Wilhelm-Murnau-Stiftung and newly translated English subtitles with original German intertitles, the release will have the following extras:
Two audio commentaries: one newly recorded by film historian David Kalat; the second by historian R. Dixon Smith and critic Brad Stevens

The Language of Shadows, a 53-minute documentary on Murnau's early years and the filming of Nosferatu

New video interview with BFI Film Classics Nosferatu author Kevin Jackson

56-page booklet featuring writings and rare imagery

More surprises to be revealed closer to release date
Eureka! have also supplied an official 20-13 HD restoration trailer. Enjoy!