Eureka! Entertainment have announced first UK Blu-ray appearance of the iconic classic Red River (1948). Voted the fifth greatest western of all time by the American Film Institute in June 2008, Red River was directed by the legendary Howard Hawks, one of the most influential American directors of all time, and stars John Wayne and Montgomery Clift in his debut film.
One of Hollywood's most iconic westerns, Howard Hawks' Red River launches cinema's grandest cattle drive, and one of the screen's most powerful father-son dramas. One of John Wayne's most intense roles inspired one of his finest performances, and in his debut leading role, Montgomery Clift instantly leapt to the forefront of Hollywood's young actors.
After the Civil War, ranch owner Thomas Dunson (Wayne) leads a drive of ten thousand cattle out of an impoverished Texas to the richer markets of Missouri, alongside his adopted son Matthew Garth (Clift) and a team of ranch hands. As the conditions worsen, and Dunson's control over his cattlemen gets ever more merciless, a rebellion begins to grow within the travelling party.
Filmed among glorious expanses with no expense spared, and a roster of brilliant turns from greats including Joanne Dru, Walter Brennan, Harry Carey, John Ireland and Hank Worden, Red River is an all-American epic, a grand adventure yarn, and a profound psychological journey.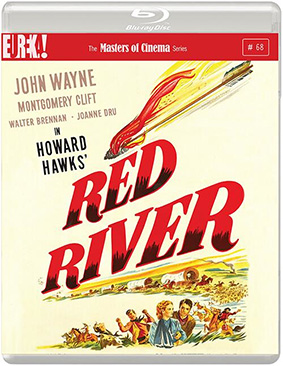 Red Rver makes its UK Blu-ray debut on 28th October 2013 by Eureka! as part of the Masters of Cinema series at the RRP of £19.99.
Featuring a new high definition 1080p transfer, the disc will have the following extras:
Original theatrical trailer

Exclusive lengthy video conversation about Red River and Howard Hawks by filmmaker and critic Dan Sallitt, conducted by Jaime Christley, and shot by Dustin Guy Defa and James P. Gannon

A booklet featuring the words of Howard Hawks, rare imagery, and more

More still to be announced