Eureka! Entertainment have announced the October release of Late Mizoguchi: Eight Films, 1951–1956, eight masterpieces compiled together on 1080p Blu-ray for the first time to be released as part of The Masters of Cinema Series.
Kenji Mizoguchi looms over the history not only of Japanese cinema but of world cinema altogether. These eight films from the last decade of Mizoguchi's career represent a collection of eight of his greatest works, which is to say, eight of the greatest films ever made.
Ugetsu monogatari (1953) [Tales of the Rain and Moon, aka Ugetsu] is a highly acclaimed masterwork of Japanese cinema. Based on a pair of 18th century ghost stories by Ueda Akinari, the film's release continued Mizoguchi's introduction to the West, where it was nominated for an Oscar and won the the Venice Film Festival's Silver Lion award (for Best Direction).

In 16th century Japan, amidst the pandemonium of civil war, potter Genjūrō (Mori Masayuki) and samurai-aspirant Tobei (Ozawa Sakae) set out with their wives in search of wealth and military glory respectively. Two parallel tales ensue when the men are lured from their wives: Genjūrō by the ghostly charm of Lady Wakasa (Kyo Machiko); Tobei by the dream of military glory.

Famed for its meticulously orchestrated long takes and its subtle blending of realistic period reconstruction and lyrical supernaturalism, Ugetsu Monogatari is an intensely poetic tragedy that consistently features on polls of the best films ever made.
Oyû-sama (1951) is a poignant and contemplative tale of two sisters and their ill-fated relationship with the same man. At the core is Mizoguchi-regular Tanaka Kinuyo (who also stars in Ugetsu Monogatari) as the eponymous Oyu, the older sister who allows marital customs to dictate the lives of those caught up in this complex love triangle.
Continuing the director's fascination with the relationship between affairs of the heart and the social mores that shape and sometimes destroy them, Mizoguchi transforms his subject matter into the realm of the transcendental through the use of long, mobile shots – an approach that reaches its apotheosis in a take of almost six minutes – infused with humanity and emotion.
Sanshô dayû [Shansho the Steward, aka Sansho the Baliff] (1954) [Shansho the Steward, aka Sansho the Baliff]: Based on an ancient legend, as recounted by celebrated author Mori Ōgai (in his short story of the same name, written in 1915), and adapted by Mizoguchi, Sanshō Dayū is both distinctively Japanese and as deeply affecting as a Greek tragedy. Described in its opening title as "one of the oldest and most tragic in Japan's history", Mizoguchi depicts an unforgettably sad story of social injustice, family love, and personal sacrifice – all conveyed with exquisite tone and purity of emotion.
Set in Heian era (11th century) Japan, it follows an aristocratic woman, Tamaki (played by Tanaka Kinuyo, who also stars in Mizoguchi's Ugetsu Monogatari), and her two children, Zushiō (Hanayagi Yoshiaki) and Anju (Kagawa Kyōko), who are separated by feudal tyranny from Tamaki's husband. When the children are kidnapped and sold into slavery to the eponymous "Sansho" (Shindō Eitarō), the lives of each of the family members follow very different paths – each course uniquely, and insufferably, tragic.
Famed for its period reconstructions and powerful imagery, often through the director's trademark long takes, Sanshō Dayū is one of the most critically revered of all of japanese cinema – a Venice Film Festival Silver Lion winner that often appears in lists of the greatest films ever made.
Gion bayashi [Gion Music Festival, aka A Geisha] (1953) is a drama set in the world of the courtesan, contrasting two different types of geisha – on one hand, Eiko (Wakao Ayako), a sixteen-year old orphan who wishes to be taken in and trained; on the other, Miyoharu (Kogure Michiyo), an older, more experienced geisha, who agrees to mentor the younger woman – living under the same roof in difficult personal circumstances. A fascinating, subtle insight into the lives of these women in 1950s Japan.
Chikamatsu monogatari [A Tale from Chikamatsu, aka The Crucified Lovers] (1954): Based on a centuries old tale with roots in real events, Chikamatsu monogatari tells the hauntingly tragic story of a forbidden love affair between a merchant's wife, Osan (Kyoko Kagawa), and her husband's employee, Mohei (Kazuo Hasegawa), in an era when the punishment for adultery was crucifixion.
When a series of innocent events lead to the false accusation of an affair between Osan and Mohei, the accused pair are forced to flee an almost certain death sentence. On the run, the outlaw couple grow closer together, drawn inexorably towards the romantic crime of which they are accused.In the hands of Mizoguchi, Chikamatsu Monogatari depicts two people caught up in a constricted world where true love and social obligation are at odds. His portrayal of the lovers' dilemma lead famed director Akira Kurosawa to describe the film as "a great masterpiece that could only have been made by Mizoguchi."
Uwasa no onna [The Woman in the Rumour] (1954): Released the same year as Chikamatsu monogatari, Uwasa no onna offers a contrasting portrait of attitudes and mores concerning love and relationships. Set in a modern Kyoto geisha house, the eponymous woman in the rumour is Hatsuko (Kinuyo Tanaka, star of countless Mizoguchi films, including The Life of Oharu, in her last role for the director with whom she was often romantically linked), madame of her own geisha house. When Hatsuko ends up pursuing the same man as her daughter, Yukiko (Yoshiko Kuga), both women are forced to confront their attitudes towards each other and the family business.
Akasen chitai [Red Light District, aka Street of Shame] (1956): Sadly, the very last film by Kenji Mizoguchi – presents a vivid portrait of prostitution in 1950s Japan.

In a Tokyo brothel named Dreamland – an obvious irony given the faded hopes of those who work there – the lives of five prostitutes intersect. Each has a very different story for how they entered the profession, but what they share is the struggle to make sense of the red light district and its cycle of exploitation.
Filmed shortly before the Japanese government's introduction of an anti-prostitution bill, Akasen chitai is a compelling study of women torn between financial necessity and questions of conscience. It was nominated for the prestigious Golden Lion at the Venice Film Festival, and inspired French critic Jean Douchet to proclaim: "For me, along with Chaplin's Monsieur Verdoux and Renoir's La Règle du jeu, the greatest film in the history of cinema".
Yôkihi [Imperial Concubine Yang, aka The Princess Yang Kwei-fei] (1955): Set many centuries ago, Yôkihi recounts the Chinese legend referred to in its title.
In eighth-century T'ang China, widowed Emperor Hsüan-tsung (Masayuki Mori) reigns alone, devoting his life to the composition of music. When he meets and falls in love with a beautiful young woman (Machiko Kyô), who will become his imperial concubine, a tale of political intrigue and rival dynasties is set in motion, with ultimately tragic consequences.Sumptuously filmed in vibrant colour, Yôkihi is the most ancient of Mizoguchi's costume dramas, yet its central themes of passion, sorrow, and the conflict between love and power remain timeless — it was also nominated for the Golden Lion at Venice.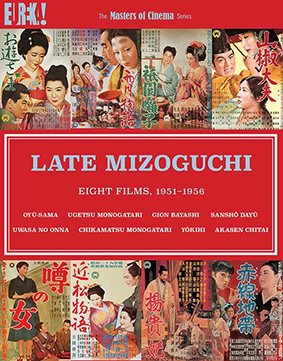 Late Mizoguchi: Eight Films, 1951–1956 will be released on UK Blu-ray on 21st October 2013 by Eureka as part of the Masters of Cinema series at the RRP of £59.99.
Featuring 1080p transfer of all eight films and optional English subtitles, the set will have the following extras:
Tony Rayns video discussions on each of the eight films

Original trailers

Approximately 200 illustrated pages of booklet material compiled together
This is the first time Chikamatsu monogatari, Uwasa no onna, Akasen chitai and Yôkihi have appeared on Blu-ray anywhere in the world.
Ugetsu monogatari trailer:
Sanshô dayû trailer: