Gwen Mayfield, an English schoolteacher working as a missionary in Africa, suddenly finds herself being victimised by a tribe of local witch doctors. Exposed to the deadly powers of the occult she is left deeply traumatised. In an effort to recover Gwen takes up a position in a rural school within the British countryside. But the idyllic village surroundings become increasingly sinister as Gwen begins to uncover a nightmarish web of dark and satanic secrets.
Originally released in 1966, The Witches is an unforgettably chilling pastoral horror from the legendary Hammer Studios. Adapted from Norah Lofts' novel by the great Nigel Kneale (The Quatermass Experiment, The Year of the Sex Olympics, Quatermass and the Pit), the film stars Joan Fontaine (Rebecca, Norah Lofts) in her last major film role, supported by Kay Walsh (Oliver twist, Tunes of Glory, The Horse's Mouth) and Alec McCowen (Frenzy, Never Say Never Again) Further down the cast list you'll find a few more familiar faces, including Leonard Rossiter, Michele Dotrice and Bryan Marshall.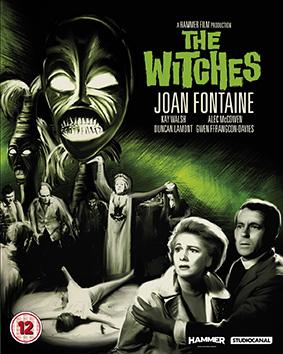 This new restoration of The Witches will premiere at the 57th London Film Festival on 11th October, followed on 21st October 2013 by a double-play release (featuring Blu-ray and DVD editions of the film) by Studocanal at the RRP of £22.99.
The sole extra feature wioll be the documentary Hammer Glamour.