Following the success of their Bafta winning series The Killing and Borgen, and the newly Bafta-nominated series The Bridge, Arrow Film's Nordic Noir label has announced the October UK DVD release of acclaimed period drama Anno 1790. Part mystery, part historical drama, part romance and partially a look at early forensic science, this release is the first time that the series has been made available in the UK.
Anno 1790 is an innovative take on the Nordic Noir crime drama genre in which the hero, Daadh, is a controversial surgeon and police commissioner who uses unconventional means to solve murder cases during the Age of Enlightenment. It is Stockholm, 1790, and Europe is in turmoil after the French Revolution – a beacon of hope to the freethinkers across Europe, and a great threat to the reactionaries and those in power. Daadh observes the ever-changing world around him – a city where tumbledown buildings stand alongside stately manors, and whores and beggars walk the same streets as rich merchants and noble women. The murder cases and the methods of solving them differ from those of our time. But the motives stay the same: revenge, greed, love, jealousy and politics.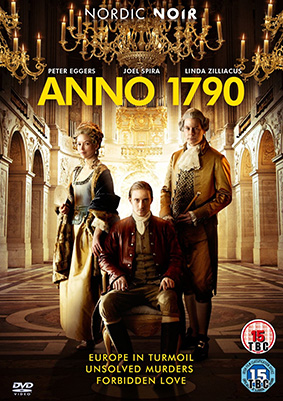 Anno 1790 – The Complete First Season will be released on UK 3-disc DVD on 28th October 2013 by Arrow Films as part of their Nordic Noir label at the RRP of £24.99.
No extras have been detailed.