Siblings Addison and Liza are on the run from a casino heist gone wrong. When a car accident leaves their wheel man and a state trooper dead, they split up and make a run for the Canadian border in the worst of circumstances – a near whiteout blizzard. While Addison heads cross-country, creating mayhem in his wake, Liza is picked up by ex-boxer Jay, en-route for a Thanksgiving homecoming with his parents, June and retired sheriff Chet. It's there the siblings are reunited in a terse and thrilling showdown that pushes the bonds of family to the limit.
The 2012 Deadfall (not to be confused with the 1968 British thriller, directed by Bryan Forbes and released on UK DVD in 2011 by Optimum) was directed by Austrian filmmaker Stefan Ruzowitzky, whose previous films include the not-quite-as-good-as-we-hoped Anatomy and the award-winning The Counterfeiters and boasts a rather impressive cast that includes Eric Bana (Hulk, Munich, Chopper), Olvia Wilde (Tron Legacy, In Time), Charlie Hunnam (Pacific Rim, 50 Shades of Grey 2014), Kate Mara (American Horror Story), Treat Williams (127 Hours, Once Upon a Time in America) as well as acting legends Kris Kristofferson (Pat Garrett & Billy the Kid, Blade) and Sissy Spacek (Carrie, The Straight Story).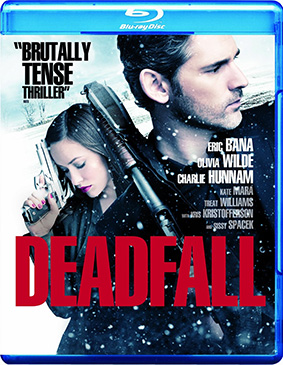 Deadfall will be released on UK Blu-ray and DVD on 7th October 2013 by Warner Bros at the RRP of (and I'm looking to confirm this because it sounds a bit odd), £23.48 for the Blu-ray and £16.33 for the DVD.
The extra features will be:
Snow and Western featurette (2:43)

The Family featurette (2:47)

Eric Bana short interview (2:47)

Olivia Wilde short interview (1:37)

Stefan Ruzowitzky short interview (5:18)