Sweden in the late 70s seems like the perfect society, with neutral politics and women's liberation dominating the media. But beneath the polished surface lurks a corrupt, seedy underworld of strip shows and sex clubs where dreams are made and lives are destroyed. Iris, a young girl from the bottom rung of society, works as call girl within this murky world. And Iris has learnt that power can get you anything...
Call Girl is a film the press release is describing as "A slick, sexy slice of top-class Nordic Noir from the creators of Wallander, The Hunt and A Royal Affair, Call Girl is both an edge-of-your-seat political thriller and an engrossing character study." What this actually means is that some of the people who worked on this film also worked on those titles, including director Mikael Marcimain (who helmed 2 Wallander episodes) and a few of the string of producers, co-producers, associate and executive producers, some of whom were also involved with the rather smart Easy Money [Snabba Cash].
Opinion on the film is generally positive (with a few dissenters), with Variety having this to say of it: "The superb craft package perfectly captures the gritty realism of a world where glittery sex clubs exist within a stone's throw of somber government offices, and their respective inhabitants often lie closer." Cine Vue was more cautious in its praise, suggesting that it "never quite becomes the compulsory viewing its sophisticated veneer suggests it to be."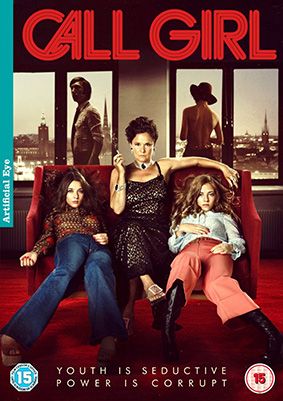 Call Girl will be rleased on UK DVD on 28th September 2013 by Artificial Eye at the RRP of £15.99.
The only listed extra is a trailer. Which is here as well: