Ooo, this is exciting. Arrow Films' Arrow Academy label has announces a deluxe Blu-ray release of Charles Laughton's on and only, extraordinary stab at feature direction, the 1955 The Night of the Hunter.
Robert Mitchum gives a career-best performance as Harry Powell, a self-appointed preacher with 'LOVE' and 'HATE' tattooed on his knuckles who travels to a small town in search of his executed cellmate's stash of cash, under the impression that his two young children know its whereabouts.
But the film's melodramatic plot plays second fiddle to some of the most extraordinary images ever captured on film. Laughton and cinematographer Stanley Cortez (The Magnificent Ambersons, Shock Corridor) imbue almost every shot with a luminosity that recalls the great silent masterpieces of F.W. Murnau and Victor Sjöström. A widely misunderstood flop at the time (which put Laughton off ever directing again), it's now regarded as one of the greatest of all American films.

The carefully restored Blu-ray, from 35mm film elements restored by UCLA Film & Television Archive in cooperation with MGM Studios, with funding provided by the Film Foundation and Robert B. Strum, will also feature an extensive amount of extra features and, for the first time, will be presented in the original 1.66:1 aspect ratio, as director Charles Laughton and cinematographer Stanley Cortez originally intended the film to be seen. Previous editions of the film have only been released in the full frame 1.33:1 ratio, removing vital picture information and altering the cinematographic integrity of the image.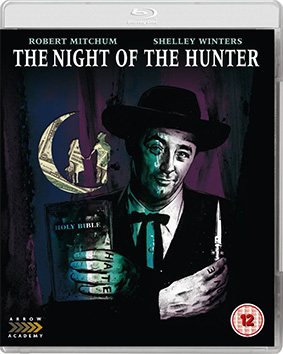 The Night of the Hunter will be released on UK Blu-ray by Arrow Films on 7th October 2013 at a yet to be confirmed RRP.
Featuring a new digital transfer made from 35mm film elements restored by UCLA Film & Television Archive in cooperation with MGM Studios, with funding provided by the Film Foundation and Robert B. Strum, and optional original uncompressed mono PCM audio & 5.1 DTS-HD Master Audio, the disc will have the following extras:
Isolated music and effects soundtrack

Charles Laughton Directs The Night of the Hunter – A two-and-a-half-hour documentary on the making of the film featuring outtakes and behind-the-scenes footage

Archival interview with cinematographer Stanley Cortez

Original theatrical trailer

Reversible sleeve featuring original and newly created artwork by Graham Humphreys

Booklet featuring new writing on the film by critic and filmmaker David Thompson with more to be announced