Before Elvis, before Elton John, Madonna and Lady Gaga, there was Liberace – pianist and flamboyant star of stage and television. Synonymous with showmanship and extravagance, he lit up every stage he performed on, gaining millions of fans across the globe.
A biographical portrait of Liberace may seem an unlikely subject for director Steven Soderbergh, but thatt's just what Behind the Candelabra is, the outrageous and entertaining true story of Liberace (played by Michael Douglas in aperformance that has met with wide andf enthusiastic acclaim) and his secret love affair with the young and handsome Scott Thorson (Matt Damon), in what the press release is calling "an intense rollercoaster ride of hedonistic fun, flamboyance and excess." There really are a lot of rollercoasters in modern tabloid film criticism and PR. Nonetheless, critical reaction has been very favourable, Peter Bradshaw in The Guardian summarising his review thus: "As biopic, black comedy and portrait of celebrity loneliness, Behind the Candelabra really is hard to beat," and Tim Robey in The Telegraph assures us that "Both Douglas and Damon give performances that rank amongst the best of their careers." OK then.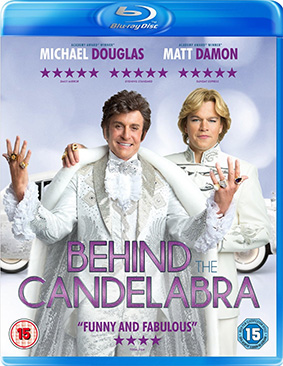 Behind the Candelabra will be released on UK Blu-ray and DVD on 14th October 2013 by Entertainment One at the RRP of £19.99 for the Blu-ray and £17.99 for the DVD.
The only extra feature listed is:
Making of Behind the Candelabra featurette