The director and acting team behind the hugely entertaining Fish Story bring you a multi-layered look into life on a Japanese council estate.
Yoshihiro Nakamura seems to be one of the rare examples of directors who can make very entertaining films from very complex and intelligent stories, and See You Tomorrow, Everybody [Minasan, sayonara] is another fine example of multi-layered stories mixed with interesting characters in a very entertaining setting.
Gaku Hamada, the star of Fish Story and Sake-Bomb, is Satoru, a simple boy who lives in a government-built estate where he is told that life is so perfect that he never wants to leave. The estate has everything one needs for a happy life: schools, shops, department stores and friends.
As time goes by with friends leaving, relationships changing and shops closing will there still be happiness to be found in a changing landscape?
The film also stars Kento Nagayama (Shield of Straw, Crime or Punishment?!?) and Nene Ohtsuka (I Wish, The Foreign Duck The Native Duck & God in a Coin Locker), while Mark Schilling in The Japan Times said that "this film, which starts out quirky and slow, builds to a climax that had me crying hot tears, for reasons I couldn't immediately explain."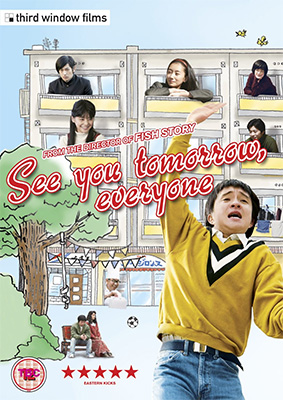 See You Tomorrow, Everyone will be released on UK DVD on 14th October 2013 by Third Window Films at the RRP of £14.99.
Extra features will include: