Borrowed Time tells the story of the unlikely friendship between a hapless young burglar, Kevin (Theo Barklem-Biggs – The Inbetweeners Movie, BBC's Silk Series 2) and his eccentric victim, pensioner Philip (Phil Davis – Quadrophenia, Vera Drake, Brighton Rock). Desperate for cash and short on options to pay back local tyrant "Ninja" Nigel, Kevin breaks into Philip's house, only to be held hostage by the old man at gunpoint.
What follows is a bittersweet comedy about growing up and rediscovering youth in parallel, as the burglar and victim form a bond that will help them both find a way out of their respective troubles.
Broorowed Time was produced by BAFTA-nominated Parkville Pictures through the award-winning Film London Microwave training and production scheme. It was the feature debut of Jules Bishop and co-stars Juliet Oldfield (Bronson, The Knot) and Warren Brown (The Dark Knight Rises, Luther). Reviews are thin on the ground at the moment, but opinion appears to be a little split, with London City Nights claiming that "For all these clever, smart touches, Borrowed Time is a flawed film", while Total Film concluded that "first time out, the writer/director looks a very exciting prospect."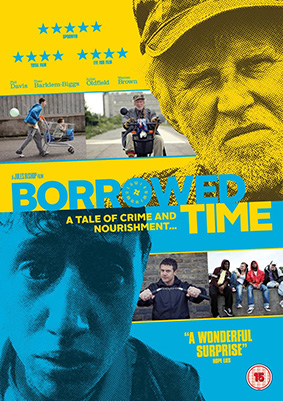 Borrowed Time will be released on UK DVD on 23rd September 2013 by Matchbox Films at the RRP of £15.99.
No extra features have been listed.