Some of the press releases we've been getting recently are woefully lacking in substance, and some of them are so thin that we've not posted the stories. You want us to help sell your film? Then get someone to actually write a press release that's a little longer than a single sentence.
We were tempted to do likewise with Mexican crime thriller Days of Grace / Días de gracia, but the film has rather a good rep and probably deserves more than a few lines of film poster phraseology. In case you're wondering, here is the press release:
Mexico City. 2002, 2006, 2010
A cop. A hostage. A city.
Corruption, violence, revenge.
3 lives over 30 days and 3 soccer World Cups.
3 ways to fight for survival.
With music from Nick Cave, Warren Ellis, Atticus Ross & Massive Attack.
Yep, that's it.
Word is that director Everardo Valerio Gout gets a little carried away with his visual ticks, but Amber Wilson over at Eye for Film said called it "a tense and invogorating ride, in the same sort of spirit as Johnnie To's cop thrillers," and Ian Ford at Screeenjabber concluded that "it sometimes forgets where the goal is, but for a tubthumping action addition to the genre, it's actually pretty impressive."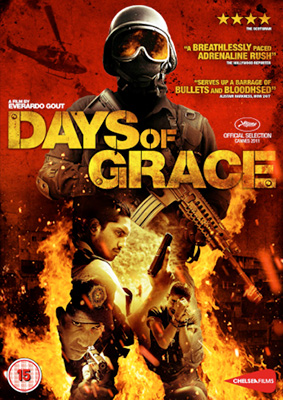 Days of Grace will be released on UK DVD on 14th October 2013 by Chelsea Films at the RRP of £15.99.
Extra features? Not likely.