The inimitable, gravelly voiced Trevor Howard was one of Britain's finest character actors, and an important figure in post-war British cinema. With a career spanning over 40 years, on both stage and screen, Howard starred in some of the finest films in cinematic history. A celebrated actor within the industry he was Oscar, Bafta, Golden Globe and Emmy nominated many times for his work, winning twice. To mark the centenary of his birth StudioCanal has announced the release of the 5-film box set Screen Icons: Trevor Howard.

This collection brings together some of his finest work, with five of the very best films from his illustrious career. The much loved classic Brief Encounter, directed by Noël Coward, was the film that launched his career, achieving huge success at the box office and catapulting Howard to fame. Carol Reed's masterpiece, The Third Man, often cited as the greatest British film ever made, featured Howard's slightly dry Major Calloway as the perfect foil to Orson Welles' shadowy Harry Lime. In Odette we see Howard in the role of Peter Churchill, a British agent who worked closely with female war spy Odette and married her after the war and in Outcast of the Islands, another collaboration with Carol Reed, Howard stars as Peter Willems: a man on the run from a scandal in Makassar. And finally, Howard was nominated for a BAFTA for Best Actor for one of his finest performances in Heart of the Matter (based on the Graham Greene novel) – as Scobie, a British intelligence officer based in Sierra Leone.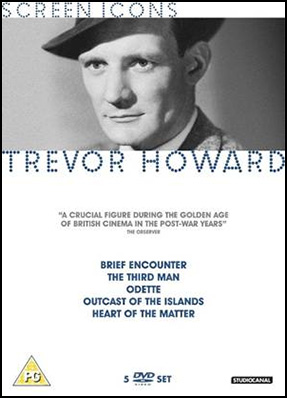 The individual discs are as follows:
Brief Encounter (1945)
Noël Coward's sensitive portrayal of two people thrown together by a chance meeting, helpless in the face of their emotions, but redeemed by their moral courage. Directed by David Lean and co-starring Celia Johnson and Stanley Holloway.
The Third Man Special Edition (1949)
A celebrated British noir charting post-European malasie, Carol Reed's The Third Man was recently voted the greatest British film of all time. Set in post-war Vienna, The Third Man stars Joseph Cotten as Holly Martins, who arrives penniless as guest of his childhood chum Harry Lime, only to find him dead. Martins develops the ultimate conspiracy theory after learning of a "third man" present at the time of Harry's death. An all-time classic, the film features some of the screen's most memorable set pieces.
Extra features are:
Featurette – Anton Karas
The Third Man on the Radio
Photo Gallery
Filmographies
Documentary presented in Cannes Film Festival 2005: Shadowing The Third Man
Odette (1950)
A classic tale of bravery and courage during WWII, Odette tells the true story of female war hero Odette Hallowes. After volunteering her services to the Special Operations Executive, Odette (Anna Neagle) is despatched into Nazi occupied France and thrown into an intense world of espionage to work alongside agent Captain Peter Churchill (Trevor Howard) and radio operator Alex Rabinovich (Peter Ustinov). Whilst on a deadly mission working for the French Resistance her cover is blown and Odette is captured and interrogated by ruthless Gestapo officers. But even after being brutally tortured and sentenced to death in a concentration camp Odette still refuses to reveal any information concerning her original mission and her fellow spies. Directed by Herbert Wilcox, the cast also features Marius Goring and Bernard Lee.
Outcast of the Islands (1951)
Adapted from the Joseph Conrad novel of the same name, the inimitable Outcast of the Islands, directed by Oscar winning director Carol Reed, features Trevor Howard as Willems and Ralph Richardson as Lingard. Peter Willems, a disreputable, immoral man is on the run from a scandal in Makassar. He finds refuge in a hidden native village, only to betray his benefactors over his desire for the tribal chief's daughter. Also in the cast are old favourites Robert Morley, Wendy Hiller and Wilfrid Hyde-White.
Heart of the Matter (1953)
Nominated for 4 Baftas and the Grand Jury Prize at Cannes, The Heart of the Matter marked Trevor Howard's second outing in a Graham Greene adaptation. Also starring Elizabeth Allan, Denholm Elliot and Maria Schell, the film tells the story of Scobie (Howard), a principled police officer tormented by his own guilt and the misery around him in colonial Africa at the outbreak of World War II.