In the small town of Haddonfield, Laurie Strode (Jamie Lee Curtis) finds her night of babysitting turns into a night of sheer terror as she comes face to face with the "Bogeyman". As her friends are cut down one by one Laurie becomes the focus of attack turning one night into what seems like a lifetime… a lifetime about to be cut devastatingly short.
One of the all-time greats in horror cinema history and the film that effectively launched the slasher sub-genre while remaining far and away the smartest and best of them, Halloween was the film that cemented the then young John Carpenter's reputation as a master of modern horror and made a star out of Jamie Lee Curtis. It remains one of the most revered and influential genre works from the 1970s. There's so much more to talk about with this film, but we'll save that for our eventual review.
35 Years after its original release, Anchor Bay have returned to the original source material alongside creator John Carpenter and director of photography Dean Cundey to supervise an all new High Definition transfer of the film. The disc will contain the original audio and an all new 7.1 audio mix alongside a feature length audio commentary from John Carpenter and international star Jamie Lee Curtis.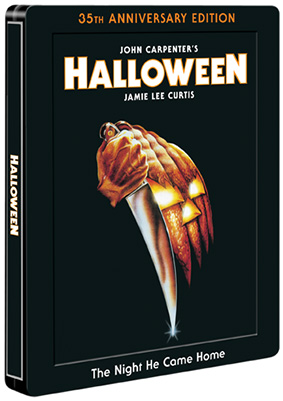 Halloween will be released as a 35th Anniversary Limited Steelbook Edition on 21st October 2013 by Anchor Bay at the RRP of £19.99 for the Blu-ray – we've not yet been given the DVD price.
Special features are:
All new audio commentary with Writer/Director John Carpenter and Actor Jamie Lee Curtis.

The Night She Came Home - A new 59 minute featurette starring Jamie Lee Curtis.

On Location: 25 Years Later

Trailer

3 x TV Spots

3 x Radio Spots