The 27th title in the BFI's pioneering Flipside series, which is generously supported by celebrated film director Nicolas Winding Refn, is Saxon Logan's long-unseen incendiary horror satire Sleepwalker (1984).
When wealthy couple Richard and Angela visit Marion and Alex in their decaying family home, an evening of drunkenness and sexual rivalry turns bloody as the guests fall victim to an unhinged attacker. Featuring a rare acting performance from acclaimed director Bill Douglas (My Childhood, Comrades), and starring Joanna David and Heather Page (both of whom would go on to work with Douglas in his final film, Comrades), this outrageous mix of biting satire and bloody horror recalls the work of otherwise unlikely bedfellows, Lindsay Anderson and Dario Argento.
The stellar cast also includes Nickolas Grace (An Ideal Husband, Two Deaths), and features cameos by Fulton Mackay (Porridge), Michael Medwin (Shoestring, The Army Game) and Raymond Huntley (Upstairs, Downstairs).
The film has been remastered from the only surviving print and is being presented for the first time on any home video format. This Dual Format Edition (Blu-ray and DVD) also contains two short films by Saxon Logan and the rare 1971 mid-length fantasy, The Insomniac, directed by Rodney Giesler.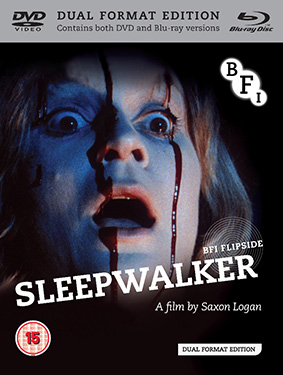 Sleepwalker will be released as a dual format edition (including DVD and Blu-ray versions) on 23rd September 2013 by the BFI as part of their Flipside strand at the RRP of £19.99.
The special features will be:
The Insomniac (Rodney Giesler, 1971, 45 mins): A man experiences an night-time world that is part foreboding nightmare, part sexual fantasy

Stepping Out (Saxon Logan, 1977, 10 mins): a couple's untraditional early morning ritual is observed in a short drama which originally supported Polanski's The Tenant in UK cinemas

Working Surface: A Short Study (with Actors) in 'the Ways' or a Bourgeois Writer (Saxon Logan, 1979, 15 mins): Bill Douglas plays a writer struggling with a script about the interior lives of two women (played by Joanna David and Heather Page)

O Lucky Man: Saxon Logan in Conversation (2013, 75 mins): the director of Sleepwalker discusses his career, recalling his collaborations with the likes of Lindsay Anderson and Bill Douglas, in this exclusive interview

Extensive illustrated booklet with essays and film notes by Julian Grainger, Alex Davidson and Vic Pratt on all of the films, as well as complete credits