One of the classic horror anthologies, Creepshow is the gloriously ghoulish collection of comic book tales served up by the masters of macabre Stephen King and George A.Romero. It finally makes its much-anticipated UK Blu-ray debut thanks to Second Sight Films, who have been doing a storming job with Blu-ray releases of past favourites of late.
Relish the family reunion and the murdered father who still wants his cake; the backwards farmer who discovers a meteorite with a life of its own; one husband's vengeful plan that will leave his cheating wife and her lover up to their necks in it; another's hope that the vicious occupant of a mysterious crate may be the answer to his nagging wife problem; and in the final gross-out tale a malicious millionaire with an insect phobia gets a scuttling surprise.
Creepshow is a classic slice of EC comic inspired horror from 1982 features an all-star cast that includes Ted Danson, Leslie Neilsen, Ed Harris, Hal Holbrook, Adrienne Barbeau, Fritz Weaver, E.G. Marshall and – yes – Stephen King himself, and gets the high-definition treatment, along with a some outstanding special features.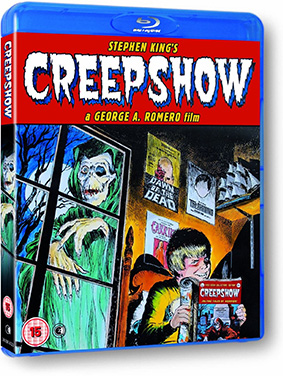 Creepshow will be released on UK Blu-ray on 28th October 2013 by Second Sight at the RRP of £19.99.
The listed extra features are:
Audio commentary with director George A. Romero and special make-up effects creator Tom Savini

Audio commentary with director of photography Michael Gornick, actor John Amplas, property master Bruce Alan Green and make-up effects assistant Darryl Ferrucci

Just Desserts: The Making of Creepshow: a feature length documentary with cast and crew

Behind the Screams with Tom Savini

Deleted scenes

TV Spot

Trailer

Stills gallery