Taking her cue from a family joke about not resembling her father, Polley sets out to uncover the truth about her mysterious mother and her own uncertain lineage. Playfully yet pointedly interrogating a cast of blood relatives and family friends, she slowly pieces together a puzzle of conflicting stories, myths and memories until she makes a discovery that will shake her family to the core.
At once an exploration of the function of storytelling, the elusive nature of truth and what it means to be part of a family, Stories We Tell is funny, profound, poignant and one of the most original films of the year, a captivating documentary portrait of a complicated yet deeply loving family from Oscar-nominated actress turned writer/director Sarah Polley (All I Want for Christmas, Away from Her, Take This Waltz).
Stories We Tell has attracted widespread acclaim, being described in The Guardian as "a gripping and absorbing meditation on the unknowability of other lives," by Total Film as "Heart- tweaking, brain-teasing and hugely enjoyable," and by Empire as "a huge achievement, a genuine revelation."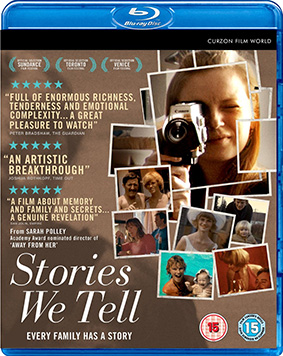 Stories We Tell will be released on UK DVD and Blu-ray on 23rd September 2013 by Curzon Film World at the RRP of £15.99 for the DVD and £19.99 for the Blu-ray.
The only listed extra feature is a theatrical trailer.