The year is 1994. Korean-American teenager, Hyun Jae (Jamie Chung – The Hangover Part II & III, Sucker Punch, The Man with the Iron Fists), goes to a bar in New Mexico where a handsome young man buys her drinks and offers her a ride home. But she never reaches home and is instead abducted and forced into prostitution by a domestic human and drug trafficking ring located outside the bright lights of Las Vegas, Nevada.
Hyun Jae is initiated into her new life by Bob Gault (Beau Bridges – The Descendants, Stargate SG-1), the corrupt Federal Marshall who runs the organisation and troubled Vaughan (Matt O'Leary – Spy Kids, Fat Kid Rules the World, Disney's The Lone Ranger). Through a haze of morphine, Hyun Jae (soon renamed Eden, by her captors) learns what her future holds: sex with strangers and life in a 10x10 storage unit. Throughout the two years she is held, Eden reluctantly ensures her own survival by carving out power and influence within the very organization that has imprisoned her.
Inspired by the true story of Chong Kim and directed by Megan Griffiths (First Aid for Choking, The Off Hours), Eden has had a few detractors but has also had its share of acclaim, being described by Time Out as "A tense, thought-provoking watch," and View London as "Engaging, sharply focused and a terrific performance from Jamie Chung."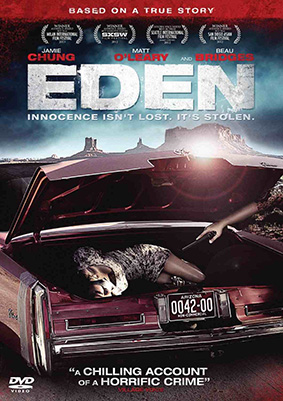 Eden will be released on UK DVD, Blu-ray and video on demand on 9th September 2013 by Clear Vision at the RRP of £14.99 for the DVD and £17.99 for the Blu-ray. VOD prices could vary.
Special features will include:
Audio commentary

Making the Film

Human Trafficking

Hope for Eden

The Story

Getting Involved