Eureka Entertainment have announced that they will be releasing A Time to Love and a Time to Die in a gorgeous new 1080p HD Blu-ray transfer of the film in its original CinemaScope aspect ratio. The second-to-last feature film by Hollywood master Douglas Sirk (Written on the Wind, All That Heaven Allows, Imitation of Life), made during the height of his popularity, and adapted from the popular novel by Erich Maria Remarque (author of All Quiet on the Western Front) will be accompanied by a plethora of special features spread across two discs, including a video-essay based upon French New Wave director and critic Jean-Luc Godard's 1959 article about the film for the influential Cahiers du cinéma; a video interview about Sirk with Wesley Strick, author and screenwriter of Martin Scorsese's Cape Fear; a 49-minute interview film with Douglas Sirk and his wife from 1984; and a booklet containing writing by Jean-Luc Godard, critic Tag Gallagher, and excerpts from Sirk's published thoughts about the film.
Master of the Hollywood melodrama Douglas Sirk turns back to his native Germany at the time of the Second World War for the film that would stand as his penultimate American feature. A CinemaScope production staged on a grand scale, Sirk's picture nevertheless pulsates with an intimacy that has known longing for too long, and seethes with the repression of emotions poised to explode like bombs.
John Gavin plays Ernst Gräber, a soldier on the Russian-German Front in 1944 venturing home to Hamburg on a rare furlough. Upon arrival, he discovers a city that bears little resemblance to the one he left behind — and so, through the rubble of the air-raids, he searches desperately for fragments of his family's shattered lives. But amid the shards, he falls in love with Elisabeth (Liselotte Pulver), the charming daughter of his parents' doctor, and thus activates a magnetism that compels both individuals toward one another in love, even as it hurtles them headlong into epochal death.
Adapted from the novel by Erich Maria Remarque (who also makes a cameo appearance in the film), A Time to Love and a Time to Die takes its literary source and sculpts it anew out of matter made from colour, decor, and performance – and arguably bests the novel on all aesthetic levels. Yet perhaps nothing can better summarise the power of Sirk's film – or of his entire body of work – than these words from the movie's trailer: "Their pounding hearts drowned out the sound of chaos thundering around them."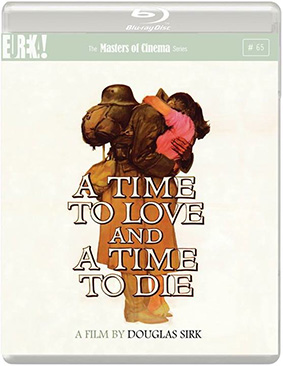 A Time to Love and a Time to Die will be released on Blu-ray for the first time anywhere in world on 23rd September 2013 by Eureka as part of the Masters of Cinema series at the RRP of £19.99.
The special features are:
Optional isolated music & effects track

Of Tears and Speed: According to Jean-Luc Godard – a 12-minute, visually annotated recitation of Jean-Luc Godard's seminal essay on Sirk's film

19-minute video interview with Wesley Strick, screenwriter of Scorsese's Cape Fear and author of the novel Out There in the Dark, a roman-à-clef based upon Sirk's life in Hollywood and his relationship with the estranged son who took a starring role in Hitler Youth propaganda

Imitation of Life [Mirage of Life]: A Portrait of Douglas Sirk – a 49-minute film portrait from 1984, directed by Daniel Schmid and photographed by Renato Berta, of Douglas Sirk and his wife Hilda in conversation, and reflecting, from their apartment in Germany, back upon their lives in Hollywood

The original trailer for the film, from the time it retained the provisional title of simply A Time to Love

36-page booklet containing the complete text of Jean-Luc Godard's essay on the film, writings from critic Tag Gallagher on the film and Sirk's career in general, and an assemblage of notes that includes excerpts from Sirk's reflections upon the film, remarks upon visual motifs inside the movie, the CinemaScope process used to photograph the picture, and more
You can read our review of the Masters of Cinema DVD here.