Eureka! Entertainment have announced the upcoming theatrical and home video releases of Ted Kotcheff's cult 1971 classic Wake in Fright as part of The Masters of Cinema Series, a fascinating rediscovery of a key work of the "Australian New Wave" and so-called "Ozploitation" movement, which was nominated for the prestigious Palme d'Or at the 1971 Cannes film festival.
Neglected for decades, Wake in Fright was expertly restored in 2009 by Australia's National Film and Sound Archive and hand-selected by legendary film director Martin Scorsese to screen at Cannes once more. Wake in Fright's reputation as a brutally haunting, psychologically gripping one-off has been growing exponentially since, and we are proud to be able to bring this seminal shocker to audiences in the UK and Ireland.
Wake in Fright's theatrical run will be co-ordinated by Eureka! Entertainment with screenings in selected cinemas nationwide in early 2014, following a première at the Film4 FrightFest fantasy and horror film festival in London, August 22–26, 2013.
Blu-ray/DVD releases will follow, in very special editions with a raft of special features to be announced nearer the release date, as part of Eureka! Entertainment's award-winning The Masters of Cinema Series.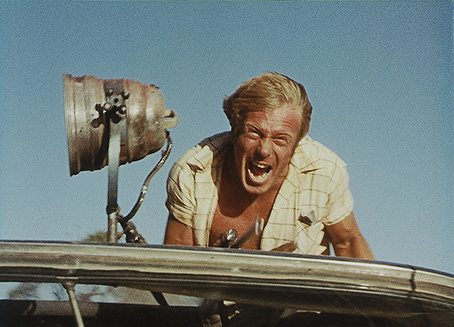 Wake in Fright is based on the 1961 novel by Kenneth Cook and stars Gary Bond and Donald Pleasance. It was first released under the title Outback, describing the film's arid, sweltering, wasteland setting of Bundanyabba ("The Yabba"), an earthy mining town where schoolteacher John Grant (Gary Bond) descends into a living hell when he is stranded on his way to meet his girlfriend in Sydney. Struggling to escape a men-gone-wild nihilistic world of binge drinking, habitual gambling, and senseless violence, Grant plunges headlong towards his own destruction, joined for the ride by alcoholic doctor "Doc" Tydon (masterfully played by Donald Pleasance).
Ron Benson, head of Eureka! Entertainment, comments:
"This once-feared-lost Australian cult classic is a hugely welcome rediscovery, a film that is at once both grimly horrific and frightfully compelling."
Martin Scorsese said of the film:
"Wake in Fright is a deeply – and I mean deeply – unsettling and disturbing movie. I saw it when it premièred at Cannes in 1971, and it left me speechless. Visually, dramatically, atmospherically and psychologically, it's beautifully calibrated and it gets under your skin one encounter at a time..."
Australian singer, musician, and soundtrack composer Nick Cave called it:
"The best and most terrifying film about Australia in existence."