In a continuation of Curzon Home Cinema's guest curator series, thaty have today a set of acclaimed films selected by award-winning filmmaker Nicolas Winding Refn, he of Bronson, Drive and Only God Forgives).
His film selection is available to watch at home or on the move, whenever and wherever you are from as little as £1.70. You can also buy the season pass for £18.00 (£15.30 for members) – you then have seven days to watch the films from purchase.
It's a hell of a selectionthat includes key works from the likes of Julien Temple, Perry Henzell, Gaspar Noé, David Lynch, Roy Andersson, Wong Kar-Wai, Charles Chaplin, Terence Davies and Aki Kaurismäki.
You can find full details of the season here: www.curzoncinemas.com/nicolaswindingrefn/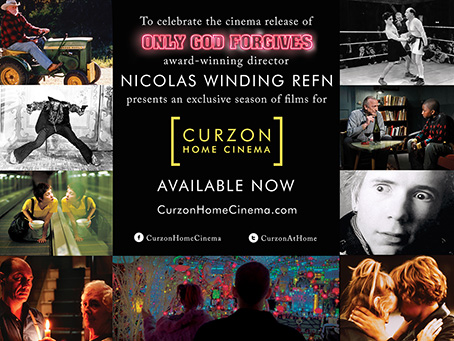 A little more on Nicolas Winding Refn, from the Curzon site:
Nicolas Winding Refn was born in Copenhagen, relocating a number of times throughout his youth to New York. Expelled from The American Academy of Dramatic Arts, Refn's acceptance into Danish Film School was also curtailed when he dropped out prior to the start of term.
Writing, directing and starring in a short made for an obscure Danish TV channel, Refn was given the opportunity of a lifetime when the short was seen by a group of producers who offered him 3.2 million kroner to turn the short into a feature. The feature became the stylish, violent and uncompromising Pusher (1996), a film that established Refn's acute visual style and refusal to shy away from depicting violence. The film quickly became a cult phenomenon, spawning the sequels Bleeder (1999), With Blood On My Hands: Pusher II (2004) and I'm The Angel of Death: Pusher III (2005).
Refn's first foray into English-language work was the US-set Fear X. Co-written with Hubert Selby Jr. and starring John Turturro, the film premiered at Sundance in 2003. A somewhat uneven work, it is eclipsed by Refn's second English-language feature, the ultra-stylised Bronson (2009). Featuring a career-making performance from Tom Hardy as the eponymous Bronson, Britain's most notorious career criminal, the film's use of Scott Walker's 'The Electrician' also marked out Refn's singular approach to music.
The near silent Valhalla Rising (2009) reunited Refn and Mads Mikkelsen. A mythical tale of a one-eyed warrior, the film has clear parallels with Herzog's Aguirre, Wrath of God (1972) and made tremendous use of its remote Scottish landscapes.
An adaptation of the novel by James Sallis, Drive (2011) took Refn's career to new heights, achieving both critical and commercial success and establishing a somewhat unlikely ongoing collaboration with taciturn leading man Ryan Gosling. Only God Forgives (2013), an existential revenge drama set amidst the seedy underage sex joints and boxing clubs of Bangkok is their latest venture.