After a series of tragic life events, Li (Daniel Wu) is burnt out. His beautiful but increasingly moody wife is never home, the unpaid bills are piling up and his work is pressuring him to lie at a public hearing. With seemingly no options left he decides to end it all. But he can't even do that right.
Enter Chuck (Academy Award winner Kevin Spacey), Li's wise-talking American neighbour who takes Li under his wing and encourages him to stand up for himself and the exploited people around him. Together they hit the streets as superhero's much to the bewilderment of those around them. After initial success it becomes clear that Chuck is not really who he says he is and Li may be in serious trouble.
One of the first Chinese films to feature an Hollywood star in the lead, Inseperable is the second feature from Dayyan Eng, the writer and director of the 2004 Waiting Alone [Du zi deng dai], and features a supporting cast that includes Dayyan regular Beibi Gong, The Assassins' Ni Yan and Swedish favourite Peter Stormare from Fargo and The Big Lebowski.
reviews are a little thin on the ground at present, but Beyond Hollywood claimed it was "Worth seeing for its fun central pairing of Spacey and Wu, though the film fails to attain the relevance it seems to be striving for, it's nevertheless entertaining enough in its own way."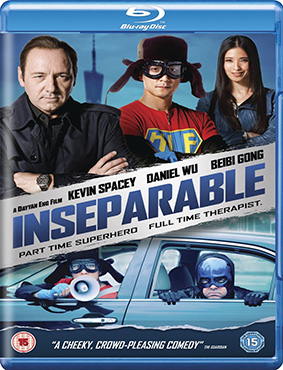 Inseparable will be released on UK Blu-ray and DVD on 19th August by Matchbox Films at the RRP of £19.99 for the Blu-ray and £15.99 for the DVD.
No extra features have been listed, so you'll have to make do with the trailer: