On a beach paradise in Northeast Brazil, Shangri-La – a huge festival of art and alternative culture – serves as a backdrop of intense sensory experiences between three different young contemporaries: Nando (Bianchi), DJ Érika (Dill) and her best friend Lara (de Bueno). Without realising it, as mere pieces of a chaotic game of fate, the encounter radically changes their lives forever.
The 2012 Artificial Paradises [Paraísos Artificiais] is an engaging story in full boom of electronic music in Brazil, which has a poignant story of love and overcoming the involvement of young middle class in the international trafficking of narcotics, intense celebrations, conflicts and fates crossed through time.
English language reviews are a little thin on the ground on this one at present, but David D'Arcy over at Screen Daily described it as: "a poetic contemplation that balances a landscape's serene beauty with the small futile dramas of characters whose lives are ruled by intoxication."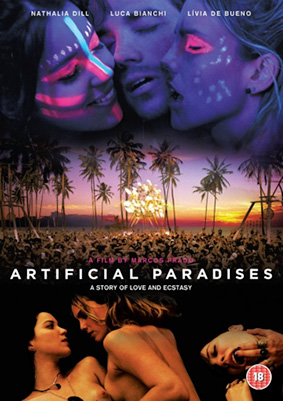 Artificial paradises will be released on UK DVD on 26th August 2013 by Matchbox Films at the RRP of £15.99.
No extra features have been listed.
As minimalist trailers go, this is a doozy: