The cargo ship MV Rozen is heading for harbour when it is hijacked by Somali pirates in the Indian Ocean. Amongst the men on board are the ship's cook Mikkel (Pilou Asbæk) and the engineer Jan (Roland Møller), who along with the rest of the seamen are taken hostage in a cynical game of life and death. With the demand for a ransom of millions of dollars a psychological drama unfolds between the CEO of the shipping company (Søren Malling) and the Somali pirates.
A Hijacking [Kapringen] is a highly acclaimed and realistic film starring Pilou Asbæk (Borgen, The Whistleblower, A Family), Søren Malling (The Killing, A Royal Affair) and Screen Actors Guild Awards Outstanding Performance nominee Dar Salim (The Devil's Double). Opening in cinemas to strong reviews back in May, the film was directed by Tobias Lindholm, writer of TV series Borgen and the excellent The Hunt, which was directed by Thomas Vinterberg.
"As tensions escalate and conditions deteriorate, Lindholm's control is so rigorous that it's easy to forget you're watching fiction." – Total Film
"Stark, beautifully observed, genuinely captivating, A Hijacking grabs its audience and does not let go. It knows what it wants and it gets it. There's no room for negotiation - go and see it." – Eye For Film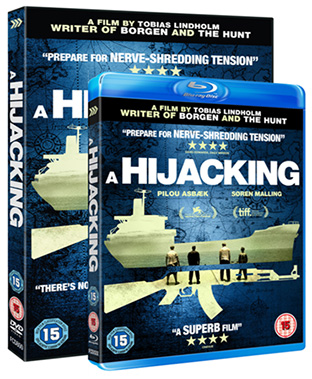 A Hijacking [Kapringen] will be released on UK Blu-ray and DVD on 26th August 2013 by Arrow Films at the RRP of £19.99 for the Blu-ray and £15.99 for the DVD.
No extra features have been listed.