Fresh from her outstanding performance in Broadchurch, double BAFTA winner Olivia Colman returns in a brand new hard-hitting drama from Channel 4. The four-part series Run began on Channel 4 last night and comes to DVD from Delta Leisure.
This dark and compelling drama boasts a stellar all-star cast alongside Colman (TwentyTwelve, The Accused), including Lennie James (Line of Duty, The Walking Dead), Jaime Winstone (Made In Dagenham, Kidulthood), Katie Leung (Harry Potter, White Swans) and Katharina Schuttler (The Promise). Painting a picture of modern-day urban life, RUN is an original four-part drama that weaves together the stories of four seemingly unconnected people facing life-changing decisions in a world where every choice is a luxury.
Carol (Colman) is a tough single mother striving to keep her family together, when her teenage son commits a random act of violence with devastating results she is faced with an impossible decision, does she protect her child or do the right thing?
Ying (Leung) is an illegal immigrant trying to survive and pay off her debts to the gang who smuggled her in, by selling illegal goods on the streets of London. When an immigration raid leaves her with no friends, no home and no money an unlikely relationship begins which could offer Ying a way out.
Richard (James) is a recovering heroin addict who spends every waking moment trying to stay clean. The one thing that keeps him going is the thought of re-establishing contact with his teenage daughter. Faced with the prospect of never seeing her again, he is torn between returning to a drug-addled existence or salvaging his most important relationship.
Kasia (Schuttler) is a young Polish woman who arrived in London full of hope, but years later is working as a cleaner, struggling to make ends meet. Her world is torn apart when her gambling addict boyfriend is killed in a vicious attack and she discovers he's been having an affair with a stripper (Winstone). Left alone to clean up the mess she finds herself in grave danger.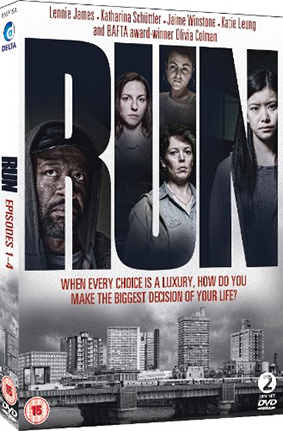 Run will be released as a 2-disc DVD set on 22nd July 2013 from Delta Leisure at the RRP of £15.99.
Extra features will include: