On 19th August 2013 a  new volume will be added to the BFI's best-selling series of transport and travel films, The British Transport Films Collection.
Marking London Underground's 150th anniversary, Experiment Under London, Volume Eleven in this series of double-DVD sets, presents six  films documenting the construction of the Underground's Victoria Line, which were produced by the BTF Unit for London Transport.
During the Autumn of 1962, engineering work began on the first new underground railway to be built under Central London in over sixty years. Made between 1961 and 1969, the six films show, in meticulous detail, the mammoth undertaking of building the Victoria Line, one of the most complex civil engineering projects that London had ever seen. It was officially opened by the Queen in March 1969.
After an initial film showing the proposals and the tunnelling technology that will be used,  the other  five films are Cine-gazette style reports  that  not only show  the technical engineering achievements but also the human endeavour required from the workforce and the cooperation of the public.
This digitally mastered collection, which is accompanied by a booklet of film notes, is a must, not only for the transport enthusiast, transport workers and engineers, but also for documentary aficionados and anyone interested in Britain's industrial history.
The films featured are:
Experiment Under London (1961): experimental excavations in preparations for the new Victoria Line underground
The Victoria Line Report No. 1: Over and Under (1965): the chief civil engineer for LT's new underground line from  Victoria to Walthamstow describes the work in progress from early 1963-mid 1964 at Oxford Circus

Report No. 2: Down and Along (1965): modern techniques of tunnelling, the use of a mechanical digging shield in a running tunnel and  the digging by hand of vast underground caverns for junctions and cross-overs

Report No. 3: Problems and Progress (1967): the difficulties met by the designers and contractors, particularly at Kings Cross and Oxford Circus; the diversion  work at Finsbury Park and the problem of accurate track laying

Report No. 4: Equip and Complete (1968): installing model escalators, testing new rolling stock and automatic train control, installing power supply and the operation of the Walthamstow to Highbury section

Report No. 5: London's Victoria Line (1969): the design, construction and completion of the new line showing the various phases and engineering techniques involved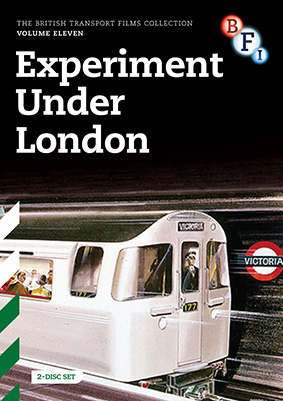 The British Transport Films Collection, Vol. 11: Experiment Under London will be release as a 2-DVD set on 19th August 2013 by the BFI at the RRP of £19.99.
Special features will be:
A Hundred Years Underground (UK, 1963): the story of London Underground from its inception to modern times with contributions from distinguished Londoners including a young John Betjeman, singer Jessie Matthews,  Lord Morrison of Lambeth and sculptor Henry Moore

The Queen Opening the Victoria Line (1969): Mute rushes of the official opening ceremony
Below is an extract from Report No. 5: London's Victoria Line: