18-year-old Dark Smith is a tormented soul, he's infatuated with his girlfriend Mel but she is too much of a free spirit to be tied down and is also involved with a girl named Lucifer. On a typical day in L.A. they hook up with an array of eccentric friends, each with their own issues, from drug addiction, to sugar addiction, complicated relationships and dalliances with pop stars. The day descends into a surreal orgy of drink, drugs and polysexual encounters culminating in a hedonistic party and one hell of a climax.
A 1997 film from cult filmmaker Gregg Araki (The Living End, Mysterious Skin), who described it as "a Beverly Hills 90210 episode on acid," Nowhere is the last in his Teen Apocalypse Trilogy following Totally F***ed Up and The Doom Generation.
The stellar cast of hot young stars includes James Duval (The Doom Generation, Donnie Darko), Ryan Phillippe (Cruel Intentions, I Know What You Did Last Summer), Heather Graham (From Hell, Boogie Nights), Mena Suvari (American Beauty, Spun), Jordan Ladd (Cabin Fever, Grindhouse), Denise Richards (Wild Things, Starship Troopers), Rose McGowan (Planet Terror, The Doom Generation), Rachel True (The Craft, Half Baked), Shannen Doherty (Heathers, Beverly Hills 90210) and Traci Lords (Blade, Cry Baby).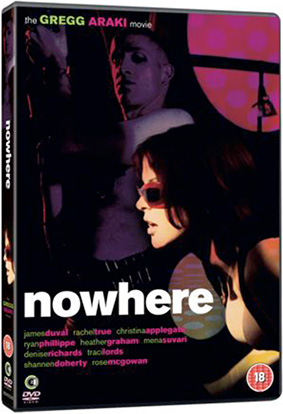 Nowhere will be released on UK DVD on 26th August 2013 by Second Sight at the RRP of £15.99.
The only extra feature named is likely to be a goodie:
Audio commentary with director Gregg Araki, James Duval, Rachel True and Jordan Ladd