Simply Media have announced the late July DVD of ten rarely screened westerns from years past on nine individual DVD releases that include a sprinkling of highlyregarded titles and a couple that are more for genre devotees only. All are to be released on 29th July 2013 at an unconfirmed retail price, though estimates put it somewhere between £10 and £12 apiece.
Details of the releases are below. All appear to be movie-only editions. many of the transfers have been digitally remastered.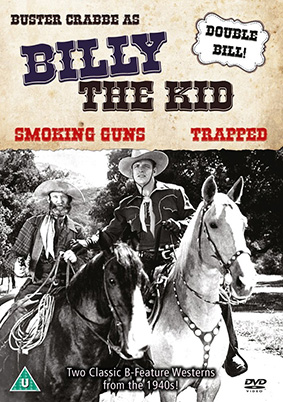 Smoking Guns [aka Billy the Kid's Smoking Guns] (1942) / Trapped [aka Billy the Kid Trapped] (1942)
Buster Crabbe (who made his name as Flash Gordon and Tarzan) and Al St John star in a 1940s Billy the Kid double-bill.
In Smoking Guns, a murderous doctor and a crooked sheriff team up and prey on local ranchers. Billy the Kid (Crabbe) and his sidekicks help the townsfolk take a stand against the land grabbers.
In Trapped, Outlaw gang leader Stanton (Glen Strange) stages a jailbreak for Billy the Kid and his sidekicks Fuzzy and Jeff. But Stanton has a hidden agenda. He and his gang embark on a series of bank robberies and hold ups, impersonating the threesome.
Both films were directed by Sam Newfield, veteran of many early Westerns, including the longrunning Billy the Kid series.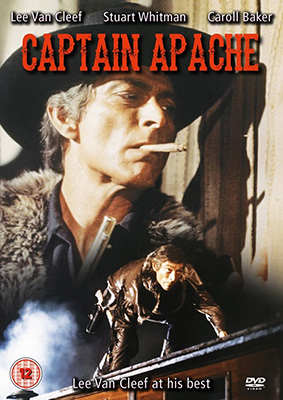 Captain Apache [aka Deathwork] (1971)
Steely Lee Van Cleef stars as a Native American who becomes a U.S. Army officer tasked with investigating the murder of a respected colleague. His only clue is the riddle buried in the dead man's enigmatic final words, "April morning". Suspects and informers start dying at an alarming rate as Apache gets closer to solving the case – until he stumbles on a devastating plot to bring down the government. Apache finds his own life is at risk as he becomes embroiled in a deadly game of cat and mouse in this violent revenge Western.
Directed by Alexander Singer, a regular on Star Trek: The Next Generation, Star Trek: Deep Space Nine and Star Trek: Voyager, the film co-stars Carroll Baker and Stuart Whitman.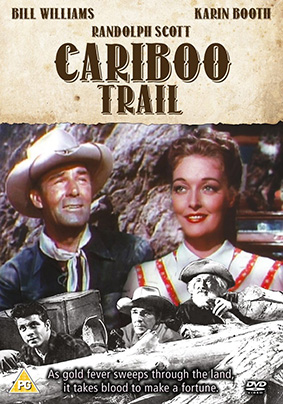 The Cariboo Trail (1950)
Jim Redfern (played by genre icon Randolph Scott) dreams of owning his own cattle ranch. With partner Mike Evans (Bill Williams), he heads into British Columbia, on the Cariboo Trail. There's a gold rush on and they're joined along the way by old-timer Grizzly Winters (the inimitable George 'Gabby' Hayes), a prospector who hasn't had much luck. Powerful local boss, and villain, Frank Walsh (Victor Jory) and his henchmen stampede Jim's cattle, causing Mike to lose an arm. And Jim his dream. Out of desperation, Jim tries his hand at gold mining. But Walsh is still out to get him...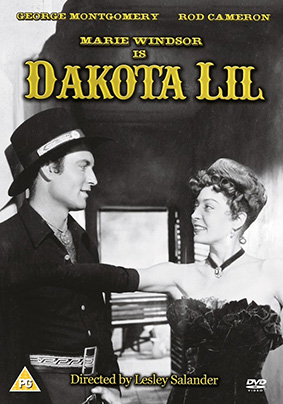 Dakota Lil (1950)
Dance hall gal Lil (Marie Windsor) is a very versatile woman – she can sing, she can ride, she plays cards and she knows how to forge – all of which make her attractive to several gentlemen, including secret service agent Tom Horn (George Montgomery). Horn's been sent West to round up a gang of counterfeiters. He starts by gaining the confidence of one of the ringleaders, Lil, and she leads him to Logan (Rod Cameron), the brains behind the operation. When Lil finds out that Horn is a Fed, she's tempted to fill him full of holes. The only problem is, he's taken her heart.
Directed by the insanely prolific Lesley Selander, who made over 140 films and TV series episodes (many of them westerns) in his 32 year career as a director, including 43 episode sof the classic TV series Laramie.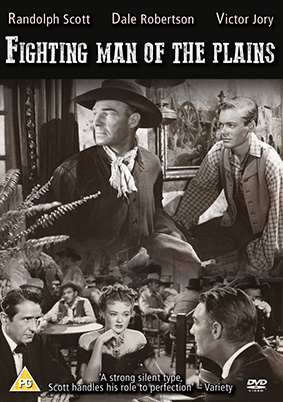 Fighting Man of the Plains (1949)
Scott plays Jim Dancer, one of Quantrill's Raiders, staging attacks on Kansas on behalf of the fallen Confederacy in the years following the Civil War. During one raid, Dancer kills the man he holds responsible for the death of his brother. The dead man was innocent, and Dancer becomes a fugitive. Months later, he resurfaces, under a stolen identity, as the Marshal of a lawless Kansas town. With the help of another social outcast, Jesse James (Dale Robertson). Dancer begins to restore order. But the crooked District Attorney isn't overly fond of the new Marshal and his law abiding methods – and Dancer's past comes back to haunt him...
Directed by Edwin L. Marin and starring Randolph Scott, the film was written by western specialist Frank Gruber (who also wrote The Cariboo Trail above).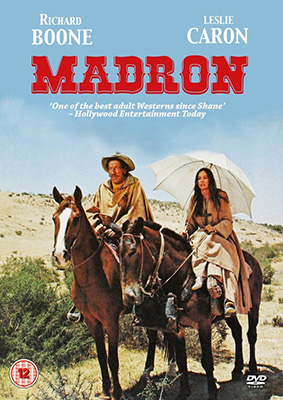 Madron [aka His Name Was Madron] (1970)
Sister Mary is the only survivor of a brutal Apache attack. After burying the dead, she continues on her journey through the harsh desert to Santa Fe. Battling the lonely, fierce landscape, she eventually encounters gunslinger Madron. He reluctantly agrees to help the defenceless nun make it to her destination. But they are being shadowed by a gang of cut throat outlaws. And, the Apaches are returning...
Directed by Jerry Hopper, Madron stars Richard Boone, Leslie Caron, Gabi Amrani and Paul L. Smith.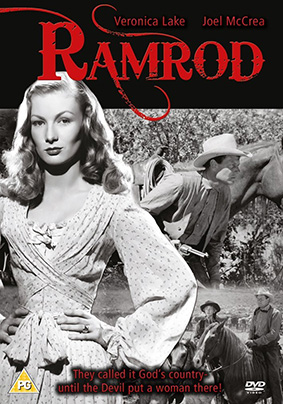 Ramrod (1947)
Connie Dickson (Veronica Lake) plans to marry a sheep rancher, but her father teams up with land baron Frank Ivey to drive the man out of town. Fiery Connie, determined to fight Ivey to the bitter end, takes over her ex-fiance's land and hires Dave Nash (Joel McCrea) to run the ranch as her ramrod. Dave, a reformed drunk, insists on doing everything by the book. Little does he know that Connie has taken matters into her own hands, and gone behind his back. Armed with his cowboy code of honour, Dave manoeuvres a dangerous world of greed, lies, and murder in this old fashioned tale featuring two of Hollywood's biggest stars of the 1940s.
Directed by the highly respected André de Toth (Carson City, Springfield Rifle, House of Wax), the film's supporting cast includes Donald Crisp and Lloyd Bridges.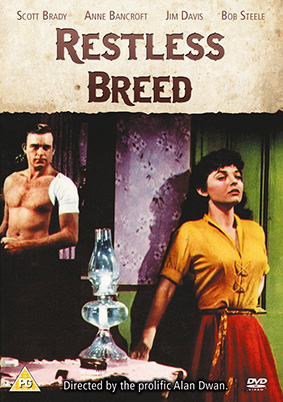 The Restless Breed (1957)
When lawyer Mitch Baker (Scott Brady)'s father is killed by gun-runners, he pursues the villains who escape into Mexico. Gang leader Jim Simmons, beyond the reach of the American law, is confident that his henchmen can get rid of Mitch – but he's mistaken… Mitch plays the waiting game in the border town of Mission, Texas, where he attracts the interest of Angelita (Anne Bancroft), a young Indian woman. The sheriff warns Mitch not to take the law into his own hands, but he's determined to avenge his father's death – his way.
The film was directed by Allan Dwan, prolific and veteran director of John Wayne epic The Sands Of Iwo Jima (1949).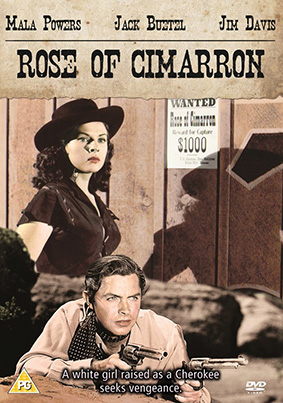 Rose of Cimarron (1952)
After a wagon train is attacked by Comanche Indians, a young Cherokee finds a lone survivor. He takes the baby girl to his parents, who name her Rose, and rear her lovingly as one of their own. Years later, Rose's foster parents are murdered while trying to stop outlaws on the run from stealing their horses. A devastated Rose (Mala Powers) vows revenge. She tracks the killers to Dodge City, where she enlists the aid of Marshal Hollister (Jack Beutel), known as one of the best lawmen in the West. Although the Marshal insists she abide by the white man's law, Rose takes matters into her own hands...
Directed by veteran of many universal Westerns, Harry Keller, the film stars Mala Powers, best known for westerns such as Rage at Dawn (1955) and Jack Buetel, known for The Outlaw (1943) and Judge Roy Bean (1956).