A 16 year-old boy (Ernst Umhauer) ingratiates himself into the house of a fellow student from his literature class and writes about it in essays for his French teacher (Fabrice Luchini - Potiche, Cycling with Moliere). Faced with this gifted and unusual pupil, the teacher rediscovers his enthusiasm for his work, but the boy's intrusion sparks a series of uncontrollable events.
In the House / Dans la maison comes from acclaimed French director François Ozon (Potiche, Swimming Pool, Time to Leave) and stars Kristin Scott-Thomas (The English Patient, Nowhere Boy, Bel Ami) and Fabrice Luchini (Potiche, Paris). Inspired by Juan Mayorga's play The Boy In The Last Row, and winner of Awards in Toronto and San Sebastián.
Our own Timothy E. RAW had this to say of the film: "A commentary on how and why we tell stories, and who we tell them for, in Ozon's strangely dextrous and dense career, this is top tier stuff. Undoubtedly his best film yet."
You can read the whole of Tim's review and watch his interview with director François Ozon here.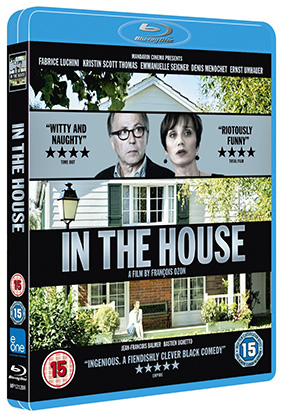 In the House will be released on UK Blu-ray and DVD on 22nd July 2013 by eOne Entertainment at the RRP of £17.99 for the Blu-ray or the DVD (good to see no premium being charged for the HD edition).
Extra features will include:
Costumes bloopers

Premiere at the Grand Rex

Poster concepts

Deleted scenes

Making-of documentary (50 mins)