The ABCs of Death is perhaps the most ambitious anthology film ever conceived, with productions spanning fifteen countries and featuring segments directed by over two dozen of the world's leading talents in contemporary genre film, including the directors of House of the Devil, Hobo with a Shotgun, A Serbian Film, Tokyo Gore Police, You're Next, plus four British Directors – Ben Wheatley (Sightseers), Simon Rumley (Red, White & Blue), Jake West (Doghouse) & Leeds based Lee Hardcastle, who with his claymation short won a competition to be the final Director.
Inspired by children's educational books, the motion picture is comprised of twenty-six individual chapters, each helmed by a different director assigned a letter of the alphabet. The directors were then given free rein in choosing a word to create a story involving death. Provocative, shocking, funny and ultimately confrontational, The ABCs of Death is the definitive vision of modern horror diversity.
The segments that make up the film are:
Apocalypse by Nacho Vigalondo (TimeCrimes), Spain
Bigfoot by Adrían Garcia Bogliano (Cold Sweat), Mexico
Cycle by Ernesto Díaz Espinoza (Mirageman; Mandrill), Chile
Dogfight by Marcel Sarmiento (Deadgirl), USA
Exterminate by Angela Bettis (Roman), USA
Fart by Noburu Iguchi, (Robo Geisha), Japan
Gravity by Andrew Traucki (The Reef), Australia
Hydro-Electric Diffusion by Thomas Malling (Norwegian Ninja), Norway
Ingrown by Jorge Michel Grau (We Are What We Are), Mexico
Jidai-Geki by Yudai Yamaguchi (Yakuza Weapon), Japan
Klutz by Anders Morgenthaler (Princess), Denmark
Libido by Timo Tjahjanto (Macabre), Indonesia
Miscarriage by Ti West (House of the Devil; The Innkeepers), USA
Nuptials by Banjong Pisathanakun (Shutter), Thailand
Orgasm by Bruno Forzani & Héléne Cattet (Amer), Belgium
Pressure by Simon Rumley (Red, White & Blue), UK
Quack by Adam Wingard (A Horrible Way to Die), USA
Removed by Srdjan Spasojevic (A Serbian Film), Serbia

Speed by Jake West (Doghouse), UK
Toilet by Lee Hardcastle (T is For Toilet), UK
Unearthed by Ben Wheatley (Kill List), UK
Vagitus by Kaare Andrews (Altitude), USA
WTF! by Jon Schnepp (Metalocalypse; The Venture Bros.), USA
XXL by Xavier Gens (Frontiers; Hitman), France
Youngbuck by Jason Eisener (Hobo With A Shotgun), Canada
Zetsumetsu by Yoshihiro Nishimura (Tokyo Gore Police), Japan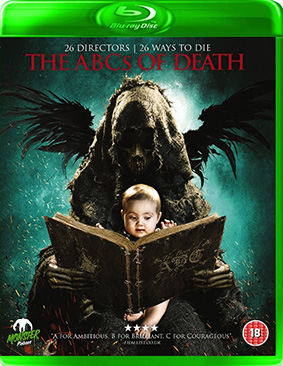 This alphabetical arsenal of destruction orchestrated by what has been described as "a stunning roll call of some of the most exciting names in horror across the world" will be released on UK DVD and Blu-ray on 22nd July 2013 by Monster Pictures at the RRP of £13.99 for the DVD and £14.99 for the Blu-ray.
Extra features will include:
Filmmaker Commentary
A Is for Apocalypse – Oil Burns Visual Effects
B Is for Bigfoot – Making of
C Is for Cycle – Deleted Scenes
D Is for Dogfight – Making of
F Is for Fart – Behind the Scenes
H Is for Hydro-Electric Diffusion – Behind the Scenes, The Making of Bertie the Bulldog & Frau Scheisse and Finished Short vs. Behind the Scenes
I Is for Ingrown – Making of
J Is for Jidai-Geki – Behind the Scenes
P Is for Pressure – Interviews with Writer/Director Simon Rumley and Producer/Director of Photography Milton Cam
R Is for Removed – Behind the Scenes Photo Gallery
T Is for Toilet – Behind the Scenes
V Is for Vagitus – Deleted Scene, Behind the Scenes and Animatics
W Is for WTF! – Behind the Scenes, Bonus Flubs! and Star-Beast Outtakes
Z Is for Zetsumetsu (Extinction) – Behind the Scenes
AXS TV: A Look at The ABCs of Death
Do You Know Your ABCs Trailer
Redband Trailer
Greenband Trailer