Pippa is a physically and emotionally scarred former model living as a recluse in her upmarket Georgian flat. When a heist taking place in the same building goes wrong, Pippa's home is broken into by the charismatic Kayleigh. Pippa is taken hostage by this unpredictable and volatile thief who is looking for a temporary hideout, but when outside forces close in Kayleigh takes a darker path to get her way. As the confined space becomes a fighting ring and a tense struggle ensues, Pippa must learn how to stand up for herself once again.
Written and directed by Tobias Tobbell, Confine marks the feature film debut of actress Daisy Lowe, who co-stars with Eliza Bennett (Nanny McPhee, Inkheart) and Game of Thrones star Alfie Allen.
Reviews are a little thin on the ground at present and are cautiously positive, with Britflicks suggesting that "Tobbell should be congratulated for his efforts here" but also that the film has "a distinctly theatrical feel and left this reviewer wondering if it would not be better suited to the stage," while i-Flicks called it "an enjoyably claustrophobic thriller that makes for solid Saturday night viewing."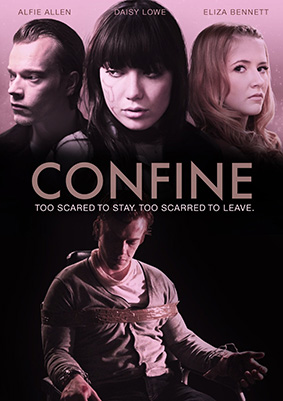 You'll get the chance to judge for yourself on 1st July 2013 when Confine is released in UK cinemas and simultaneously on DVD and as an on-demand download by 20-20 Films. The DVD will retail at £15.99.
No extra features have been detailed as yet.