The Killing of a Chinese Bookie is the fifth and final title in the BFI's John Cassavetes Collection. Presented on Blu-ray for the first time, it will be released in a Dual Format Edition (containing both DVD and Blu-ray) in its original 1976 cut and Cassavetes' re­edited shorter 1978 version. Also available on the same date will be a Limited 3-Disc Collector's Edition with a bonus DVD containing the documentary Anything for John (1993), the short film The Haircut (1982}, and an interview with Tamar Hoffs, director of The Haircut.
In an absorbing performance, Ben Gazzara plays small-time Sunset Strip entrepreneur Cosmo Vitelli, owner of the Crazy Horse West night spot. An obsessive showman, Cosmo navigates a murky world of loan sharks and crooks to keep his club afloat, but, when a gambling debt spirals out of control, he is blackmailed  into accepting a murderous commission.
Featuring stand out turns by Seymour Cassel and Timothy Agoglia Carey as the underworld racketeers out to fleece Cosmo, John Cassavetes' portrayal of one man's hubristic descent subverts the conventions of its plot to explore the darker regions of the American dream.
Arguably the most plot-driven of all his films, Cassavates withdrew The Killing of a Chinese Bookie shortly after the initial release and subsequently re-cut a new version which features different scenes.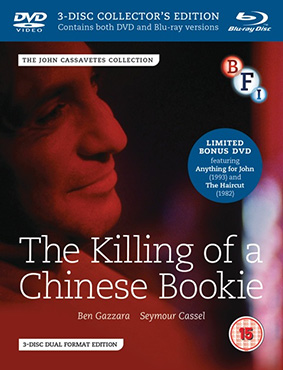 The Killing of a Chinese Bookie will be released on UK dual format (containing DVD and Blu-ray editions) on 15th July 2013 by the BFI at the RRP of £19.99 for the regulart edition and £24.99 for the Limited 3-disc Collector's Edition.
Special features are:
The original 1976 cut of The Killing of a Chinese Bookie

Selected scenes commentary on 1976 version by AI Ruban and Peter Bogdanovich

Illustrated booklet with a newly commissioned essay by Tom Charity
The limited 3-Disc Collector's Edition will include the above, plus:
The Haircut (Tamar Simon Hoffs, 1982, bonus DVD only): John Cassavetes stars as busy music executive sidetracked by a haircut in Hoffs delightful directorial debut

Anything for John (Doug Headline, 1993, 91mins, bonus DVD only): feature length documentary tribute to John Cassavetes, featuring interviews with Peter Falk, Gena Rowlands and AI Ruban

Tamar Hoffs interview (Doug Headline, 1993, 6 mins, bonus DVD only)
Ben Gazzara talks about the film below: