Widely celebrated as one of Britain's greatest filmmakers, Humphrey Jennings is a true poet of the cinema, and his work was the inspiration for Danny Boyle's 2012 Olympic Games Opening Ceremony. Released on 15th July, this is the third and final volume of Dual Format Edition (DVD and Blu-ray) releases that bring together his entire directorial output. It includes the films he made between 1944 and 1951, and charts his transition from wartime to peacetime filmmaking.
Featuring A Diary for Timothy, Jennings' much-loved collaboration with E.M. Forster, The Dim Little Island, a muted but affecting celebration of Britishness, and Family Portrait, the esoteric Festival of Britain film, this essential collection confirms Jennings as a master of the cinematic art.
The films included are:
The True Story of Lili Marlene (1944)
The Eighty Days (1944)
Myra Hess (1945)
A Diary for Timothy (1946)
A Defeated People (1946)
The Cumberland Story (1947)
The Dim Little Island (1948)
Family Portrait (1950)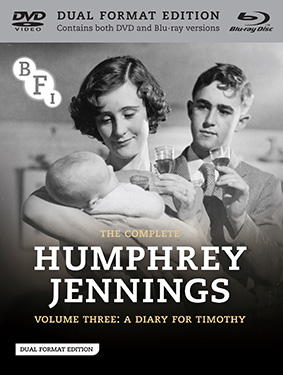 The Complete Humphrey Jennings Volume Three: A Diary for Timothy will be released as a Dual Format edition by the BFI on 15th July 2013 at the RRP of £19.99.
Special features will include:
V.1. (1944): alternative cut of The Eighty Days

The Good Life (Graham Wallace, 1951): the film Jennings was working on at his death

Illustrated booklet with film notes, credits and biographies by John Wyver, Patrick Russell, Kevin Jackson, Scott Anthony and others.
Here's an extract from Family Portrait: