From acclaimed director Rufus Norris, comes the British Independent Film Awards 2012 Best Film Winner Broken, a powerful, captivating and heartbreaking exploration of love in all its many forms; idealised, unrequited, and, ultimately, unconditional.
With some light comic touches and a brilliant central performance from newcomer Eloise Laurence, this coming-of-age story deals with the tumultuousness of growing up in a world where the unhappy certainties of childhood give way to a fear-filled doubt, and where a complex, broken world fills the future.
Based on Daniel Clay's acclaimed 2009 novel, Broken is a story that gets to the very heart of modern social dysfunction and features a stellar support cast including 2013 BIFA Best Supporting Actor winner Rory Kinnear, Tim Roth, Cillian Murphy and Denis Lawson.

The Broken soundtrack is by Electric Wave Bureau, an artists collective founded by musical director Mike Smith, artist Suzi Winstanley, Nelson De Freitas and musician Damon Albarn dedicated to composing and sourcing music for film, television, radio and online. The soundtrack also features an original song by Blur.
A little strangely, the press release contained no actual plot summary for the film, so we'll bowrrow this brief summary from Empire:
When 11 year-old girl Skunk (Laurence) witnesses a brutal assault by a neighbour, it sets in motion a chain of events that will impact her dad (Roth) and all the inhabitants of her claustrophobic North London cul-de-sac.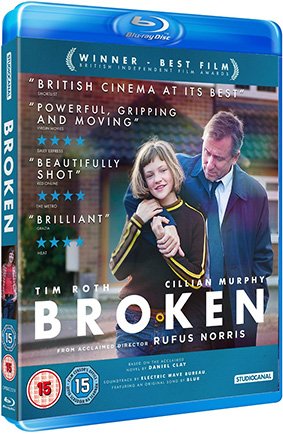 Broken will be released on UK DVD, Blu-ray and EST download on 1st July 2013 by StudioCanal at the RRP of £15.99 for the DVD and £19.99 for the Blu-ray, with download price to be confirmed.
Extra features will include:
Interviews with cast and crew

Electric Wave Bureau perform at Hackney Picturehouse (TBC)

Q&A at Hackney Picturehouse (TBC)

Trailer