Frankie is part of the war-machine, a successful aerospace engineer designing drones for the military. Then she meets Kahil, a French-Algerian student. They embark on a passionate affair and for the first time in her life Frankie utterly, thrillingly, loses control. One morning at work, she's detained by the security services and told that Kahil may not be quite what he seems. She finds that she has crossed a line into a nightmare world of suspicion and accusation. Realising how little she knows of this man, Frankie determines to find out the truth, only to discover to her cost that betrayal always comes from those closest to us.
Flying Blind is the first feature film by young Polish director Katarzyna Klimkiewicz, whose short film, Hanoi-Warsaw, won the 2010 European Film Award for Best Short. A multinational cast includes Helen McCrory (Hugo, Skyfall, Harry Potter and The Half Blood Prince), French-Algerian Najib Oudghiri (Rendition, The Wedding Song), Kenneth Cranham (Hot Fuzz, Valkyrie) and Tristan Gemmell (Casualty). The screenplay credit is shared by Naomi Wallace (Lawn Dogs, The War Boys), Bruce McLeod (The War Boys), and Bristol-based writer Caroline Harrington. Behind the camera is Polish Director of Photography Andrzej Wojciechowski, Klimkiewicz's long time collaborator, and DoP on Hanoi-Warsaw.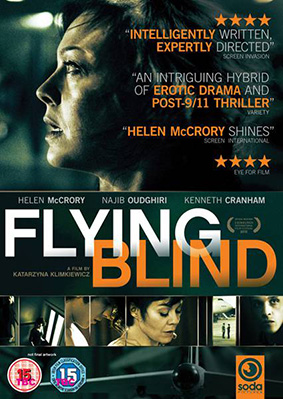 Described by Empire as an "intriguing blend of of erotic drama and post-9/11 thriller" and Variety as a "thought provoking political drama," Flying Blind will be released on UK DVD on 15th July 2013 by Soda Pictures at a to-be-confirmed RRP.
No details of extra features have been confirmed as yet.