As well as being the name of one of the more interesting groups from the 1980s (and yes, I know they're still going, but wasn't that a time), The Fall is also the title of a gripping new psychological thriller from the BBC starring Gillian Anderson (The X Files, Great Expectations) and Jamie Dornan (Once Upon a Time, Shadows in the Sun), and it's coming to UK DVD and Blu-ray in June from Acorn Media.
The Fall forensically examines the lives of two hunters, one a serial killer that stalks his victims at random, the other a high-powered detective superintendent brought in to catch him. Emmy and Golden Globe winner Gillian Anderson plays DSI Gibson, who arrives in Belfast on secondment from the Met to conduct a review into a high profile murder case where the police are getting nowhere. She quickly realises that the case is linked to others and that there is a deadly serial killer at large. Paul Spector (Jamie Dornan) is a serial killer who stalks his victims at random in and around Belfast whilst chillingly hiding behind the façade of loving husband and father.
The Fall also features a strong supporting cast, including Archie Panjabi (The Good Wife), John Lynch (Labyrinth) and Laura Donnelly (Insatiable) and is written by the exceptional Allan Cubitt (Prime Suspect 2, The Boys Are Back).
Revealing how a modern, top-level murder investigation team works when it comes up against every policeman's worst nightmare, The Fall is less of a whodunit and more of a cat-and-mouse game, and was described by The Guardian as "Thoughtful, brooding, clever, tense, bleak, character-based, but also scary as hell."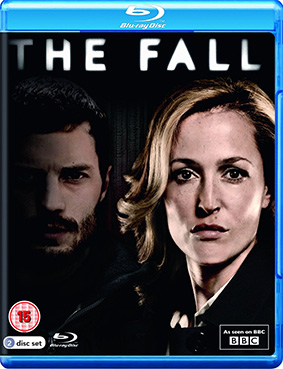 The Fall will be released on UK 2-disc Blu-ray and DVD on 17th June 2013 by Acorn Media at the RRP of £25.99 for the Blu-ray and £19.99 for the DVD.
Extra features are restricted to a picture gallery.