Anthony Asquith's Underground (1928), a subterranean tale of love, jealousy, treachery and murder, evokes the daily life of the average Londoner better than any other film in Britain's silent canon. Restored by the BFI National Archive and following an acclaimed theatrical release in January, the BFI now brings the film to DVD and Blu-ray for the first time on 17th June 2013 in a Dual Format Edition. It is presented with a new orchestral score composed by Neil Brand and performed by the BBC Symphony Orchestra; along with five short complementary films and an alternative score by musician/sound recordist Chris Watson.
In the late 1920s Asquith, along with Hitchcock, was one of the most audacious young talents in British film and Underground was his own original screenplay. With its scenes of the bustling tube (passenger behaviour is strikingly familiar) and the capital's parks, double-decker buses, pubs and shabby bedsits, Asquith masterfully balances the light and dark sides of city life, aided by a superb cast of Brian Aherne and Elissa Landi as the nice young lovers and Norah Baring and Cyril McLaglen as their unhappy counterparts.
At just 26, Asquith's direction is assured, efficient and spare with some remarkably cinematic flourishes, clearly inspired by contemporary German and Russian filmmaking. It climaxes with a thrilling chase scene across the rooftops of the Lots Road Power Station.
For many years the restoration of Underground presented insurmountable difficulties, but developments in digital technology have enabled the BFI to make a significant improvement to the surviving film elements.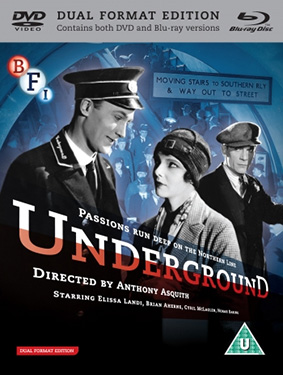 Underground will be released on UK dual format (Blu-ray and DVD) by the BFI on 17th June 2013 at the RRP at the RRP of £19.99.
Feature presented in both High Definition and Standard Definition, with a newly commissioned score by Neil Brand presented in 5.1 and 2.0 and an alternative score by Chris Watson, the release will have the following extras:
The premier and his little son (1909-12, 1min): previously unseen footage of Anthony Asquith as a child

A trip on the Metropolitan Railway (1910, 13 mins, DVD only)

Scenes at Piccadilly Circus and Hyde Park Corner (1930-32, 6 mins, DVD only)

Seven More Stations (1948, 12 mins, DVD only): a film about the expansion of the Central Line beyond Stratford

Under Night Streets (1958, 20 mins): a documentary about the tube's nightshift workers

Illustrated booklet featuring film notes and new essays by Christian Wolmar and Neil Brand